Novikov amazed by his form so far
| | |
| --- | --- |
| By David Evans | Saturday, March 5th 2011, 02:16 GMT |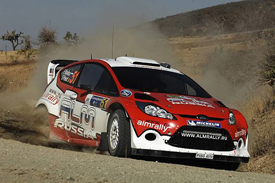 Russian star Evgeny Novikov has admitted his early fifth place on Rally Mexico is more than he dared to dream of ahead of the start.
The 20-year-old is making his return to the sport this weekend and has driven well to place his Ford Fiesta RS WRC fifth, having run fourth for one stage on Friday. Novikov lost fourth on the day's final gravel test when the recovering Jari-Matti Latvala passed him.
"I expected nothing when I came here," said Novikov ahead of tonight's two superspecial stages. "This is a very good position for me. Honestly, I am surprised, I really didn't dream anything like this was possible.
"It's not so easy for me, the drivers around me have done this rally something like 10 times before and I have never been here before and I have never driven this rally car before shakedown."
Novikov said he would continue his risk-free run through the stages, with his sights set on reaching the finish on Sunday.
"There is still a very long way to go with this rally," he said, "and anything can happen. I'm not going to think about any result, I'm just going to do my job."