Solberg has shakedown incident
| | |
| --- | --- |
| By David Evans | Thursday, March 3rd 2011, 19:54 GMT |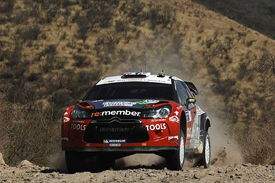 Petter Solberg's Rally Mexico shakedown test was halted temporarily when he damaged his Citroen DS3 WRC's steering this morning.
In an effort to gain as much time in the car as possible - having only tested for a day on gravel (albeit a 14-hour day) - Solberg elected not to return to the service park in Leon and serviced his DS3 closer to the shakedown test.
Solberg's team manager Ken Rees said: "There was an impact in the stage in a section where there would have been a watersplash - but the water had dried up.
"It's not clear exactly what happened with the car, but Petter called and asked to send some more parts up, which we did. We will have a good look when the car comes back to service, but it's up and running again."
Solberg went on to set the second-fastest time on the stage.
Shakedown itself was paused for an hour while the organisers dealt with the high number of spectators.
Event director Patrick Suberville said: "There were too many spectators on two corners and [FIA safety delegate] Jacek Bartos said they must move positions before the test could continue. Naturally we agreed with this decision and obviously helped to get the spectators to stand in a safe area.
"We normally get a lot of spectators for the shakedown but normally at the start and finish of this stage. This time they were in other areas."