Rally Sardegna tweaks route
| | |
| --- | --- |
| By David Evans | Friday, December 17th 2010, 16:26 GMT |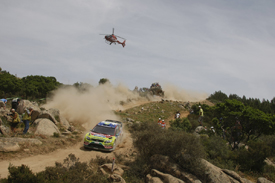 Next year's Rally d'Italia-Sardegna will not start from Rome as originally planned, but it will feature a number of alterations to its route when it rejoins the World Rally Championship for 2011.
The Olbia-based event had been tipped for a ceremonial start in Rome before the cars were shipped over to Sardinia for the competitive element of the May 5-8 rally.
There had been speculation that the organisers had been unable to secure a deal to run to that format and the initial paperwork from the event confirms the plans have been scrapped.
Also on the original agenda had been mixed surface stages, but they too have been canned in favour of a continuation of an all-gravel rally.
The opening day of the event will, however, venture further south than before, with the route concentrated on the province of Oristano. The other two days will remain similar to Rally d'Italia's last inclusion in the world championship in 2009 - it ran as an Intercontinental Rally Challenge round this year.
The event will feature the, so-called, Power Stage on Sunday afternoon, which will be run with live television and with three points on offer for the fastest time. The Gallura test, which will be used, is largely the same stage which ran in 2005 and 2006.