Petty takes back control of RPM
| | |
| --- | --- |
| | Monday, November 29th 2010, 18:38 GMT |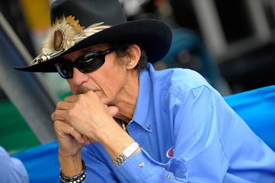 Richard Petty has taken back full control of his NASCAR team, through buying out former partner George Gillett.
Petty, now 73, will serve as chairman of the team and will oversee the daily running of two Fords for AJ Allmendinger and Marcos Ambrose in 2011.
"This is a great day for me, my family, our fans and our wonderful sponsors," Petty said. "They have supported me through thick and thin and I thank them from the bottom of my heart.
"Our partnership with Andy Murstein and Doug Bergeron will help take us to a whole new level and I could not be more excited about our future."
A team statement added that it will still get chassis and engines from Roush and will remain in its Concord, North Carolina headquarters.
Gillett had previously merged the Petty Enterprises outfit with his Gillett-Evernham Motorsports team to run four cars for the past two seasons.