| | |
| --- | --- |
| Australian MotoGP date change mooted | |
| | |
| --- | --- |
| By David Emmett and Matt Beer | Saturday, October 30th 2010, 21:02 GMT |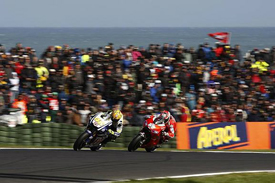 The Australian MotoGP race could be set for a switch to an early-season slot to address riders' concerns about the poor weather conditions that often affect its traditional October date - but the change will not happen until 2012.
The event switched from around the start to near the end of the MotoGP calendar in 1996, but the Phillip Island race weekends have often been disrupted by rain, and invariably see very low temperatures.
Next year's race is provisionally set for 16 October, and though it is almost certainly too late to alter this, Valentino Rossi said the prospect of moving the event for 2012 was now on the Grand Prix Commission's agenda.
"Yesterday we spoke, and the discussion is open," said Rossi. "I think, and this is just my idea, that for next year it will be difficult. Maybe for the future, 2012. But not next year, unfortunately."
Poor weather has also blighted this weekend's Portuguese GP at Estoril, with all the practice sessions affected by rain and qualifying cancelled completely. Rossi believes that Estoril's move back to its former spring slot - with the 2012 GP scheduled for 1 May - will solve this, taking care of one of the riders' calendar concerns even though Phillip Island may have to wait.
"We're coming here in May, so that is good," said Rossi in the Estoril paddock today. "But Phillip Island will be difficult."