Audi rues bizarre balaclava problem
| | |
| --- | --- |
| By Andrew van de Burgt | Sunday, October 3rd 2010, 03:52 GMT |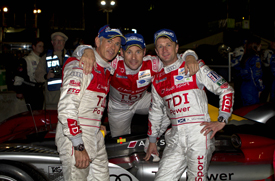 Audi team-mates Dindo Capello and Allan McNish were left in a state of disbelief by the bizarre helmet issue that cost them any hope of victory in this weekend's Petit Le Mans.
Capello was leading the race when the lining of his helmet worked loose, dropping his balaclava in front of his eyes, making it impossible to see where he was going. This issue forced the team to make an unscheduled pitstop, which ended a great race-long dice for the lead with the two Peugeots.
"This is the worst thing that's happened to me in a race," lamented Capello. "When I hit the brakes all the lining just came forward and I could not see where I was going! I can laugh about it now, but it's an unbelievable thing to happen."
McNish took over from Capello, but needed to get back onto the lead lap to stand a chance of overhauling the lead Peugeot. The opportunity never came and he handed over to Tom Kristensen in third, which is where they finished.
"We were leading when it happened, so we clearly had good pace," he said. "In order to beat the [Stephane] Sarrazin/[Franck] Montagny Peugeot everything had to be perfect. I don't know what would have happened in the end."