Sutil handed 20-second penalty
| | |
| --- | --- |
| | Sunday, September 26th 2010, 15:44 GMT |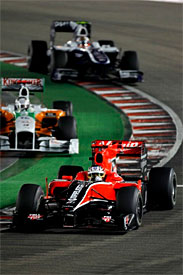 Adrian Sutil has lost his eighth-place finish at the Singapore Grand Prix following a penalty.
The Force India driver had finished in eighth position in the Marina Bay race, but was given a 20-second penalty afterwards, as the stewards deemed he had gained an advantage for going around the outside of Turn 7 on the opening lap of the race.
The penalty moved Sutil down to 10th position.
Eighth place goes to Williams' driver Nico Hulkenberg, while Felipe Massa moves up to ninth.

Revised World Championship standings, round 15:                

Drivers:                    Constructors:             
 1.  Webber       202        1.  Red Bull-Renault          383
 2.  Alonso       191        2.  McLaren-Mercedes          359
 3.  Hamilton     182        3.  Ferrari                   317
 4.  Vettel       181        4.  Mercedes                  168
 5.  Button       177        5.  Renault                   133
 6.  Massa        126        6.  Force India-Mercedes       59
 7.  Rosberg      122        7.  Williams-Cosworth          59
 8.  Kubica       114        8.  Sauber-Ferrari             27
 9.  Sutil         46        9.  Toro Rosso-Ferrari         10
10.  Schumacher    46       
11.  Barrichello   39       
12.  Kobayashi     21       
13.  Hulkenberg    20  
14.  Petrov        19       
15.  Liuzzi        13       
16.  Buemi          7       
17.  De la Rosa     6       
18.  Alguersuari    3       
       
All timing unofficial