Ecclestone: Delhi situation no concern
| | |
| --- | --- |
| By Jonathan Noble and Matt Beer | Thursday, September 23rd 2010, 13:15 GMT |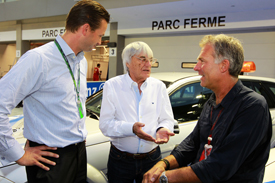 Bernie Ecclestone says the current difficulties over the Commonwealth Games in Delhi do not concern him, even though the city is set to host next year's inaugural Indian Grand Prix.
Delays in completing the Commonwealth Games facilities in Delhi have led to fears that the event will not go ahead, with some major athletes pulling out and others delaying their arrival.
But when asked if he felt this augured badly for the chances of the Indian GP venue being ready next season, Ecclestone replied: "No. Different organisation altogether, completely different. I have no worries at all."
He said the fact that Delhi was the location for both events was irrelevant, as the grand prix organisers had no connection with the Commonwealth Games.
"The people who are making a shambles are not the people who we are dealing with for the race," Ecclestone said.
The Indian GP is scheduled for 30 October 2011.