Group Lotus announces ART deal
| | |
| --- | --- |
| By Matt Beer | Wednesday, September 22nd 2010, 09:16 GMT |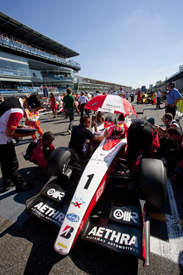 Lotus Cars has announced that it will enter into a partnership with multiple champion squad ART Grand Prix in GP2 and GP3 next year.
The deal is with Group Lotus itself rather than Tony Fernandes' Lotus Racing Formula 1 team, which is expected to switch to using the historic Team Lotus name - not owned by Group Lotus - from 2011.
ART team manager Frederic Vasseur welcomed the new collaboration with Lotus, which will see the British firm's engineering division providing technical assistance and ART's cars getting a Lotus-influenced colour scheme.
"It is a fantastic opportunity for ART Grand Prix to be working with Lotus," said Vasseur.
"The goal is clear: winning together the future GP2 and GP3 championships. I can't wait to see the new livery of our racing cars."
Lotus Motorsport's director of operations Miodrag Kotur added: "The move into GP2 and GP3 solidifies Lotus Motorsport's commitment to promoting driver development and supporting the search for the world champions of the future.
"Lotus won't simply be partner in name only, ART Grand Prix will also benefit from Lotus' considerable engineering and technical support and experience."
ART claimed the inaugural GP3 title with Esteban Gutierrez this year, and has taken Nico Rosberg, Lewis Hamilton and Nico Hulkenberg to GP2 titles. The team will continue to run two cars in GP2 and GP2 Asia, and a three-car GP3 line-up.
The Lotus F1 team will also have an involvement in GP2 next year, entering its own team under the Air Asia banner.