Vettel happy strategy gamble paid off
| | |
| --- | --- |
| By Pablo Elizalde | Sunday, September 12th 2010, 15:42 GMT |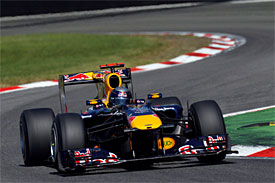 Sebastian Vettel was happy with his fourth-place finish at the Italian Grand Prix after a risky strategy paid off for the German.
Vettel, starting from sixth position, opted to complete 52 laps with the soft tyre compound, before pitting for new tyres on the final lap.
The Red Bull driver's gamble paid off, as he stayed in fourth place, beating team-mate Mark Webber in the process.
The Australian had moved in front of Vettel when the latter reported an engine problem that slowed him down but that later solved itself.
Red Bull believes the loss of performance was caused by a loose visor tear-off or a brake problem.
"Our strategy was a risk today - if it works then you're the king and if it doesn't you can be the idiot," said Vettel. "Fortunately it worked and the team did a great job.
"I had a bad start and lost a lot of ground. It was difficult to pass from there, as unfortunately we don't have extra speed on the straights, so we had to fight in the corners as well as we could.
"Then around lap 20 something happened to the car, I don't know what it was, maybe there was some friction in the car, but fortunately the problem solved itself. In the meantime though, I lost connection to the group ahead and the tow, so around three to four seconds.
"I had to come back from there and it was a tough fight. The cars ahead pitted, so I stayed out as we tried to overshoot them. We were watching the lap times throughout and in the end it worked. So, some good points and we achieved our maximum today, which was fourth place."
With today's result, Vettel is now 24 points behind championship leader Webber with five races left.