McLaren splits strategy on F-duct
| | |
| --- | --- |
| By Jonathan Noble | Saturday, September 11th 2010, 07:57 GMT |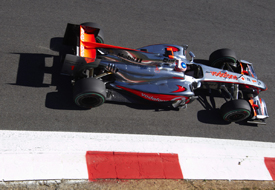 McLaren remained undecided on its F-duct strategy for the Italian Grand Prix on Saturday morning with the outfit splitting its strategy between Lewis Hamilton and Jenson Button in final practice, AUTOSPORT has learned.
The team had conducted back-to-back tests during Friday's free practice session - running Button with the F-duct for the whole day while Hamilton experimented without it for the afternoon session.
The results of that session did not give a clear indication of whether the downforce benefits of being able to run it are greater than the straight-line speed boost the team gets from not having a big wing.
After analysing the data overnight from both cars, McLaren has elected to keep its options open for final practice - keeping Button on the F-duct set-up while Hamilton sticks to the low downforce settings.
McLaren team principal Martin Whitmarsh revealed that the straight-line speed advantage of the low downforce package was around 8 km/h – but the downforce boost for the corners made it difficult to choose which way was best.
"If you look at the P2, the odd situation was that it was amazingly close between the two choices despite a huge difference in downforce for the different settings," Whitmarsh said. "We will look at it again in FP3 and then decide what we will do for qualifying."
While McLaren is undecided on its F-duct strategy, the other frontrunning teams are all set to keep their F-ducts on for the remainder of the weekend because they feel it brings an advantage in terms of lap time.