Peugeot reveals true pace in P2
| | |
| --- | --- |
| By Simon Strang | Friday, September 10th 2010, 17:24 GMT |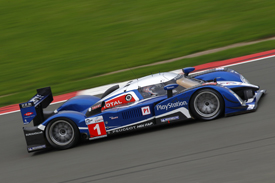 Nicolas Minassian revealed a glimpse of the Peugeot 908 HDi FAP's true potential around the new Silverstone lay-out by lapping more than a second faster than the opposition in the second free practice session for the AUTOSPORT 1000km.
The Frenchman, who watched the #1 Peugeot spin off the track at Farm in the hands of co-driver Anthony Davidson early in the session, waited until near the end of the hour to move ahead of the 'privately'-run Oreca version at the top of the timesheets.
Nicolas Lapierre was second fastest in that multi-coloured #4 car, having proved the pace-setter for much of the session with a 1m45.110s lap.
Allan McNish went third fastest for Audi, improving on his morning time with the R15 TDI to lap at 1m45.789s ahead of his team-mate Rinaldo Capello in the sister car - the pair of them unusually on-track at the same time having been split in to different crews for this event.
Rebellion Racing upheld Lola honours with fifth fastest time for the Andrea Belicchi/Jean-Christophe Boullion machine, while the #009 Aston Martin was sixth quickest.
Olivier Pla was tenth overall in the ASM Ginetta to be top of the LMP2 class, outpacing the Strakka Acura for 0.4s.
Darren Turner, returning to the scene of what could have been a triumph for him in the World GTs earlier this year, set the pace in GT2 along with co-driver Rob Bell in the JMW Aston Martin in what promises to be a fascinating class battle this weekend.
The V8 Vantage was 0.4s quicker than the closest Ferrari, that of AF Corse driven by Jean Alesi, Giancarlo Fisichella and Toni Vilander - which was second quickest in class.
But only just from the #77 Felbermayr Porsche and Jaime Melo in the second AF Corse machine.

Pos  Cl   Drivers                         Car                Time
01.  P1   Davidson/Minassian              Peugeot            1m43.935s
02.  P1   Lapierre/Sarrazin               Peugeot            1m45.110s  +  1.175s
03.  P1   Kristensen/McNish               Audi               1m45.789s  +  1.854s
04.  P1   Bernhard/Capello                Audi               1m46.747s  +  2.812s
05.  P1   Belicchi/Boullion               Lola-Rebellion     1m46.989s  +  3.054s
06.  P1   Barazi/Hancock/Mucke            Aston Martin       1m47.422s  +  3.487s
07.  P1   Fernandez/Primat/Meyrick        Aston Martin       1m48.233s  +  4.298s
08.  P1   Mansell/Mansell                 Ginetta-Zytek      1m48.289s  +  4.354s
09.  P1   Prost/Jani                      Lola-Rebellion     1m48.292s  +  4.357s
10.  P2   Amaral/Pla                      Ginetta-Zytek      1m49.082s  +  5.147s
11.  P1   Drayson/Cocker                  Lola-Judd          1m49.435s  +  5.500s
12.  P2   Leventis/Watts/Kane             HPD                1m49.447s  +  5.512s
13.  P2   Erdos/Newton/Collins            Lola-HPD           1m51.092s  +  7.157s
14.  P2   Ojjeh/Greaves/Ebbesvik          Ginetta-Zytek      1m51.287s  +  7.352s
15.  P1   Ragues/Mailleux/Ickx            Lola Aston Martin  1m51.870s  +  7.935s
16.  P1   Burgess/Mowlem/McMurry          Ginetta-Zytek      1m52.037s  +  8.102s
17.  P2   Case/Babini/Leo                 Lola-Judd          1m52.455s  +  8.520s
18.  P2   Moreau/Hein                     Pescarolo-Judd     1m52.534s  +  8.599s
19.  P2   Lahaye/Nicolet                  Pescarolo-Judd     1m54.380s  + 10.445s
20.  P2   Pirri/Cioci/Perazzini           Lola-Judd          1m56.842s  + 12.907s
21.  P2   Frey/Rostan/Bruneau             Radical-Judd       1m57.931s  + 13.996s
22.  P2   de Pourtales/Ordonez/Kennard    Lola-Judd          1m58.125s  + 14.190s
23.  FLM  Kraihamer/De Crem/Delhez        FLM ORECA          1m58.361s  + 14.426s
24.  FLM  Pillon/Verdonck/Hollings        FLM ORECA          1m58.530s  + 14.595s
25.  P2   Schell/Da Rocha                 Courage-ORECA      1m58.642s  + 14.707s
26.  FLM  Firth/Hughes                    FLM ORECA          1m59.128s  + 15.193s
27.  P2   Gates/Garofall/Phillips         MG Lola-AER        2m01.146s  + 17.211s
28.  FLM  Barlesi/Cicognani/Chalandon     FLM ORECA          2m02.263s  + 18.328s
29.  GT1  Gardel/Goueslard/Rees           Saleen             2m02.582s  + 18.647s
30.  FLM  Zacchia/Lombard/Moro            FLM ORECA          2m02.954s  + 19.019s
31.  GT2  Bell/Turner                     Aston Martin       2m03.891s  + 19.956s
32.  GT2  Alesi/Fisichella/Vilander       Ferrari            2m04.212s  + 20.277s
33.  GT2  Lieb/Lietz                      Porsche            2m04.239s  + 20.304s
34.  GT2  Bruni/Melo                      Ferrari            2m04.469s  + 20.534s
35.  GT2  Westbrook/Holzer                Porsche            2m04.532s  + 20.597s
36.  GT2  Companc/Russo                   Ferrari            2m04.696s  + 20.761s
37.  GT2  Muller/Werner                   BMW                2m04.729s  + 20.794s
38.  GT2  Ragginger/Ried/Dumas            Porsche            2m04.745s  + 20.810s
39.  GT2  Pilet/Narac                     Porsche            2m04.950s  + 21.015s
40.  GT2  Kirkaldy/Mullen                 Ferrari            2m05.290s  + 21.355s
41.  GT2  Dumbreck/Coronel                Spyker             2m06.245s  + 22.310s
42.  GT2  Ehret/Quaife/Kaffer             Ferrari            2m06.868s  + 22.933s
43.  FLM  Kutemann/Basso/Hartshorne       FLM ORECA          2m08.253s  + 24.318s
44.  GT2  Giroix/Goethe                   Lamborghini        2m12.566s  + 28.631s
45.  GT2  Farnbacher/Simonsen             Ferrari            2m33.573s  + 49.638s