Massa 'too low in car' to see grid lines
| | |
| --- | --- |
| By Edd Straw and Matt Beer | Thursday, September 9th 2010, 16:39 GMT |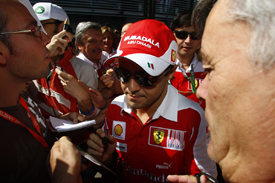 Felipe Massa says his out-of-position start at the Belgian Grand Prix happened simply because his seating position did not give him good enough visibility to line his Ferrari up correctly.
The FIA recently acknowledged that Massa had been too far forward over his grid slot when the race started, and should have had a penalty, but said that as the incident had only been brought to its notice via videos in the week after the race, it was too late to apply a punishment.
"I'm maybe the lowest driver in the car, I'm very low in the car and maybe if I was a bit higher, it would be easier to see," Massa explained.
"Definitely I couldn't see the lines very well, so I was a little bit outside, and that was it."
The governing body is investigating why Massa's contravention was not picked up by either the observing marshals or the electronic systems designed to detect grid infringements.