Q & A: Vettel on the coming title fight
| | |
| --- | --- |
| By Jonathan Noble | Saturday, August 28th 2010, 18:48 GMT |
Red Bull Racing headed into the Belgian Grand Prix well aware that the long straights of Spa-Francorchamps would provide a challenge for its RB6.

But with Mark Webber taking pole position, and Sebastian Vettel taking fourth, the outfit is in a good position to help boost its title standings in Sunday's race.

AUTOSPORT heard from Vettel when he spoke to the media after qualifying to find out his feelings on seeing Webber take pole, what Eau Rouge will be like on lap one and how much he thinks luck will play a role in the forthcoming championship battle.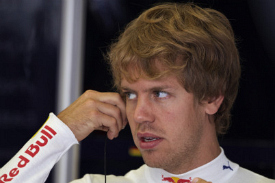 Q. Was the result today a bit of a disappointment for you, or are you pretty satisfied to be on the second row?
Sebastian Vettel: I am not super happy, but that is how it goes sometimes. I think the speed was there but unfortunately in Q3 the last run it started to rain a bit. I was one of the first cars to come, the Ferraris were a bit in front of me and after me was Mark [Webber] and then the McLarens.
In the first corner I lost six tenths so it was quite difficult. I caught up everything in the middle sector but then there was a little bit of drizzle around the back of the track at Stavelot, so at Turn 14 I lost a bit the rear. I lost momentum for the long straight-line to come back to the Bus Stop, and that was it.
In the end my first run was good, but not perfect. I was not 100 per cent happy with it. I had quite a lot of understeer. I was too conservative on the front wing setting, and lost it in the middle sector, especially the first couple of corners, but other than that the lap was okay.
That is how it goes. You saw in Q1 how close it can be in these conditions. I was the last one in the queue as our garage is at the end of the pits. So we went for the advantage of having no traffic, but I was the one who had most of the water on the track at the end of the second sector and last sector. It was quite tight and not a nice feeling.
We fitted the inters and then we were safe, but you obviously never know how much rain is coming, and how much more. All in all, obviously fourth is not what we were targeting for but anything is possible tomorrow.
Twenty minutes ago here, at the end of the GP3 race, we had more rain than any car could work with. And now the sun is shining like mad. We will see tomorrow.
Q. What will Eau Rouge be like on the first lap?
SV: Don't get me wrong, pole position is the place that everyone wants to be in. But it is better with our top speed not to be the first car. You never know what happens in the first corner. You never know if it will be wet or dry, if it will start behind the safety car or not. Should it be dry and normal, I am quite happy. I don't have to use my mirrors that much and I can possibly focus on what is happening in front of me and use the tows of the cars ahead. But it will be quite difficult - still a little bit of cold tyres, the pressures will not be up to target, about 150-160kg in the car.
Q. Have you tried it with that load of fuel yet this weekend?
SV: I think no one really has. Yesterday, if anyone tried to do a long run then I think he did one lap. We should be fine and I don't expect any surprise, but for sure it will be adventure when we get there.
Q. Is McLaren closer than you thought it would be?
SV: I think if you look at the sector times then it is more or less what we expected. We can be very competitive here. Obviously Mark is on pole in terms of performance. Both of us, we had the pace to qualify ahead – he did and I did not. But it is pretty much what we expected. Sector one is only one corner, and the rest is straight-line. And sector three is straight-line and only one corner.
Sector two is the sector where we can fight back. We were always quick there throughout the weekend. We know in sector 1 and sector 3 we have a disadvantage but there is no way we can match them there – that is something we know.
Q. Do you have a different set-up to Mark?
SV: A little bit, yes.
Q. More for rain for you?
SV: I don't think anybody in these conditions really targeted to set the car up for rain. Today it was all about qualifying. The forecast was mainly dry with some rain possible, which we saw, so everyone targets to go as fast as they can. In the end, the set-ups these days are not that much different pure dry to wet.
Also, unfortunately we don't have enough [wet] tyres so we can't test on Friday in wet conditions, or generally run a lot to evaluate which direction will help your car in wet conditions or dry. Looking to tomorrow, the forecast is for a bit of everything so you never know.
Q. Have you got enough intermediates for the race?
SV: Yes. I had to obviously put on a set of new intermediates in Q1. Some people saved this set but it will all depend on the conditions tomorrow. If it is only a bit damp it doesn't really matter - a new set is probably a bit worse than a used one. If it is perfect inter conditions a new set is better than a used one. But on the other hand the inters don't last very long for everyone so we will see.
Q. So you have two new sets of intermediates?
SV: Yes, correct.
Q. You have had the brunt of the bad luck at Red Bull Racing this year – starting with the spark plug in Bahrain. How much is luck and destiny going to play a part in this world championship battle?
SV: It always played a part in the past – and again today. We haven't been really lucky this year yet. We had a bit of a mid-season analysis and if there is one thing that stands out it is that speed never was a problem. We are doing everything like we should. We are always there, we are quick enough – and mostly it has been things out of our hands, out of our control, that have spoiled our days or ruined our plans. That is how it goes sometimes.
If you look at others, they might also not have the perfect weekend. For instance, Lewis [Hamilton] at Barcelona was solid for third and then he lost the wheel and crashed. Anyone can argue for himself that he could have got a bit more there, but in the end it is about consistency. You make out of your chances what you get.
So far we have made the best, and even races where we probably should not have even continued or people would have said there was no chance to finish, like Barcelona, we got third. So, that is how it goes. I am confident. We have the speed and once the luck turns around then we should be able to convert it into wins and a lot of points.