Mosley: Ferrari must be punished
| | |
| --- | --- |
| By Jonathan Noble | Monday, August 23rd 2010, 11:06 GMT |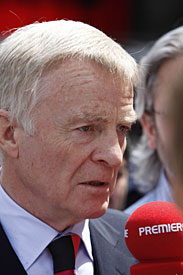 Former FIA president Max Mosley believes that Formula 1's ban on team orders must remain, and that Ferrari should lose points for imposing them at the German Grand Prix.
With Ferrari due to face a hearing of the FIA's World Motor Sport Council next month to answer charges that it breached the sport's regulations by ordering Felipe Massa to move aside for Fernando Alonso, Mosley believes action has to be taken.
Speaking to German newspaper Welt Am Sonntag, Mosley said that for the sake of fans it was important the team orders ban remained.
"Most teams are in favour of the ban being lifted," said Mosley. "But if one wants to fulfil the needs of the audience, then one must maintain the ban. In the event that it is brought into play by a team, we have to impose a severe punishment."
Regarding the Ferrari matter, Mosley believes that further action should be taken against Ferrari beyond the $100,000 (USD) fine imposed at Hockenheim.
"Both cars and both drivers should lose the points they achieved in the German Grand Prix," he said. "I will not make any recommendation, but on the facts at the moment there should have been some sporting sanction and not only a fine."