Aerolab/Force India row set to intensify
| | |
| --- | --- |
| By Jonathan Noble | Friday, August 20th 2010, 09:40 GMT |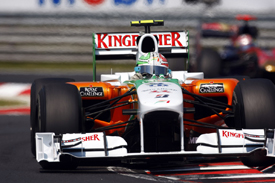 The ongoing dispute between Force India and Aerolab looks set to escalate after the Italian aerodynamics company hinted on Friday about fresh legal exchanges.
In a statement issued by Aerolab, in the wake of Force India being forced to pay it more than one million Euros in unpaid fees, the company said that it expected its director, Jean Claude Migeot, to soon be charged following a criminal complaint filed against him in Bologna.
However, with both the Formula 1 team and the Italian company having further outstanding legal issues relating to windtunnel models produced for the Lotus team, Aerolab hinted that it could launch its own action at the forthcoming Italian Grand Prix.
The statement said: "It appears that Force India's strategy will be to try and force Aerolab into a settlement that the company has no intention of accepting.
"The upcoming Italian Grand Prix at Monza, during which Force India's assets will be present under Italian jurisdiction, could trigger further exchanges of action between the two parties."
Aerolab said that Force India had been ordered to pay 1,074,730 Euros, plus damages and interest at the rate of eight per cent, to it over unpaid fees for services it provided to the Silverstone-based team.
It added: "As a result of the retaliatory action already taken by Force India, it is expected that Aerolab's Director, Mr Jean Claude Migeot, will soon be charged pursuant to a criminal complaint filed in Bologna. Aerolab is confident in the positive outcome of all judicial matters in this affair."