Q & A: di Resta on his season so far
| | |
| --- | --- |
| By Edd Straw | Friday, July 30th 2010, 12:25 GMT |
Paul di Resta made an impressive return to action in Friday morning's first free practice session at the Hungaroring after sitting out last week's German Grand Prix.
After taking over Vitantonio Liuzzi's car, di Resta was 15th fastest overall, half-a-second off team-mate Adrian Sutil, who was trying out Force India's exhaust blown diffuser package for the first time.
AUTOSPORT caught up with the Scot, rated as one of the best young drivers without a Formula 1 race seat, for his impressions on his performance in free practice and his progress after on-track appearances at seven races so far this season.
Q. What were your impressions from this morning's session?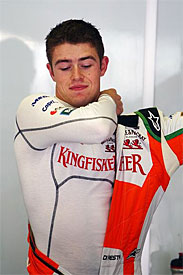 Paul di Resta: It is my first time at the Hungaroring so it's a bit different to say, Silverstone, but it's a good track. It obviously takes a while to get into a good rhythm around here having not ever driven here before. You compare yourself to your team-mate and although we had different programmes and Adrian had the new updated version with the blown diffuser you can certainly look at it as a reasonable comparison. We got through a reasonable programme that enables us to go forward.
Q. What's your verdict on the sessions that you've done so far this season. Has your performance met your expectations?
PdiR: It's a difficult one to analyse, your own performance. It's often the first time I've driven at a track and you only get one set of tyres and you don't get much running at a time when the circuit conditions aren't great. But you have to be realistic and say that yes, we are meeting what we want to do. The main thing is to get the track time, get the experience and do the programme. Obviously I'd like my performance to be better but you've got to work from the bottom to the top. Track time is the key and I can't afford to make any mistakes or go off when it is not my car and it needs to take part in the next session. It's just working yourself up and feeling more comfortable.
Q. Does the running you've done this year mean that you feel better prepared to step up if there were a race seat available next year anywhere?
PdiR: Given that I've not had the track time and the programme I'm running through, plus the knowledge that it would massively improve if I drove in the second session with two sets of tyres, we know that we could make improvements. There's no doubt about that. Today, I've learned a track that I've not been on before and if I had the chance to drive again it would be better. Some of these tracks are quite technical and you've got to remember that you're up against guys who have been driving in F1 for years and years and have done a lot of miles. I'm just jumping in on a Friday morning and taking part in a session. I'm mixing it with them and hopefully, in time, I'll be racing with them.
Q. If there was a situation whereby either Tonio Liuzzi or Adrian Sutil were unable to race, do you feel that you could do a good job and do your ability justice if you were thrown in?
PdiR: I'm as ready as ever. I'm definitely more confident in an F1 car. As far as being a reserve driver goes, I've done more running than most. I've been to new tracks, learned them fast and I think I would be as ready as you can be going into an F1 weekend. There's areas where you'd need to up your work rate a bit, but I think that the approach would be the same. I've got a great relationship with everybody in the team and that could enable it to work if it did happen. You've got to go for it if it comes up and I think I am ready.