McLaren's Dennis in NASCAR visit
| | |
| --- | --- |
| By Diego Mejia | Sunday, July 25th 2010, 06:51 GMT |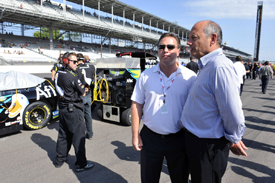 Former McLaren Formula 1 boss and McLaren Group co-owner Ron Dennis is in attendance at the Indianapolis NASCAR event this weekend supporting McLaren Electronics' bid to become an official supplier as the sanctioning body works on making the transition from carburetors to fuel injection.
MES is hoping to become the sole supplier of standard ECUs to all NASCAR teams, following similar deals the company has in other series. It is currently an official supplier both in Formula 1 and the IZOD IndyCar Series, and now hopes to get involved with America's biggest racing series.
NASCAR has yet to announce when it will apply electronics to its cars' fuel intake systems, but Dennis said his company would be ready to become a supplier as early as next season. He believes MES' experience in other forms of racing and some technological alliances his company has done in the US, makes its bid an ideal fit for NASCAR.
"I think when it comes to McLaren trying to differentiate from other possible suppliers, first, our electronics company has been around for 20 years, secondly, we've partnered with Freescale, who's the biggest American producer of semiconductors and we opened facilities in Charlotte two years ago," said Dennis.
"We're proud of the statistics. If you say give me some headlines, we've supplied every Formula 1 team for three years and not one team has had electrical faults at either practice or racing in three years. We've done the same in IRL [IndyCar] and we are a very cost-effective technology because we have bullet-proof reliability and for NASCAR one of the things that we can absolutely guarantee is tap-proof systems and the ability to very carefully monitor anything that even remotely looks like it's being interfered with."
Dennis stated his company has already been working for some time on its involvement with NASCAR and that series officials had underlined the importance of ensuring that the technology should not impact on the fans' perception of the series. He assured fans they would not be able to differentiate between a car running a carburetor and one using fuel injection but that they would appreciate the series getting in line with the auto industry in terms of green initiatives.
He also said he found his first ever NASCAR visit "fascinating" and admitted to being surprised by the level of sophistication he found in the garages, having been critical of the series in the past.
"It's more sophisticated than I anticipated it," said Dennis. "Cars are beautifully prepared, there's no question about that. Obviously there's some strong tradition in NASCAR racing, which you've got to respect and it's there for a reason.
"Clearly there's a tremendous desire to maintain equality and try to create interesting racing and clearly there's some big commitment from NASCAR officials to be even-handed. Processes are clearly very diligent and well considered and there's definitely a more relaxed atmosphere, but that I was expecting."
Dennis will be in attendance for the Brickyard 400 race, where his former McLaren driver Juan Pablo Montoya will start from pole position. The pair split right after the 2006 United States Grand Prix at the same venue, following the Colombian's announcement of his multi-year NASCAR deal. Dennis admitted to being "impressed" by Montoya's form in qualifying.
"He seems to be getting the job done," said Dennis. "I don't know if he made the supreme effort today to impress me, but he has. I somewhat doubt it."