Penalised Edwards not backing down
| | |
| --- | --- |
| By Diego Mejia | Friday, July 23rd 2010, 22:12 GMT |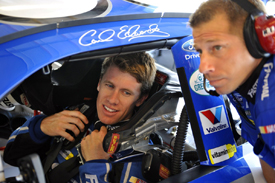 Carl Edwards accepted NASCAR penalties imposed on him after his incident with Brad Keselowski in a Nationwide Series event last weekend, but said he will not back down with rivals trying to race him as aggressively as the Penske driver.
Edwards was docked points, fined and placed on probation in all NASCAR series this week after he intentionally crashed into Keselowski on the last corner at Gateway International Raceway last Saturday, on the last lap of a race in the second-tier series.
Speaking at Indianapolis, where he is set to race Keselowski again in both the Sprint Cup and Nationwide events, the Roush Fenway racer said the penalties were fair, and that he accepted it had been unfair to get other drivers caught up in his feud - as a number of cars collected Keselowski's Penske Dodge at high speed as it spun during the Gateway incident. Although no one was driver, many drivers ended up with badly damaged cars.
"Immediately after the race last week I felt like what I did was right and it was a fair outcome to the race, and I felt like it was within NASCAR's boundaries that they had set," Edwards said.
"I think NASCAR felt the same way right then, but then as the week went on, I had the chance to talk to [NASCAR president] Mike Helton and I understand and respect that those other teams that were caught up in that wreck that Brad and I had initiated... those guys are working hard.
"I've been in that position, working hard for sponsorship and working hard for finishes, and I feel that NASCAR's penalty is fair. I talked to Jack and Geoff Smith and I don't plan on appealing it. I think it's fair in that respect. I sincerely apologise to those guys that were caught up in that wreck."
However Edwards did not go as far as saying his feud with Keselowski was over and refused to say whether he would act differently if placed under the same circumstances by his rival again. He also said he considered the probation NASCAR imposed on Keselowski as an admission that he was not the only one at fault in their clash at Gateway.
"We'll see what the future holds," said Edwards. "I race hard and I'm not going to let somebody take advantage of me, that's for sure. I've proven that, and I've been consistent about it, and I've been honest about it, too, which, I don't think has helped me any, but I've been honest about it.
"There's nothing personal between Brad and I - from my side there's not. I have a lot of respect for him and what he does on the racetrack, but the problem is that he can't just run into me to get an advantage, especially for wins. That's happened way too much between us.
"I can accept my penalty, but I'm happy that NASCAR recognised that Brad needed to be penalised too."
Keselowski for his part said the probation placed on him did not come as a surprise and that the feedback he has received from fans makes him think that he did nothing wrong.
"I don't know why, [the penalty] didn't seem to really bother me," he said. "There were some of my fans that got really upset about it. I did an autograph signing and they were pretty excited about it. I respect that. That's been the coolest part, to listen to your fan base. To get the emails or phone calls from the fans, even your friends and family to support you makes it a lot easier to deal with.
"I wouldn't say [I'm]surprised. To me, what that says is NASCAR doesn't want me to go out there and intentionally retaliate against Carl, which is great. I don't want to. I'm glad that they took that away. Now I don't have to worry about that."
The pair will race each other on Saturday night at O'Reilly Raceway Park, a race Edwards won last year and where Keselowski, who leads the Nationwide standings, finished fourth.
Subscribe to Premier Sports TV to watch all Sprint Cup events live in the UK. Visit www.premiersports.tv for more information.