Chandhok sure he will reclaim seat
| | |
| --- | --- |
| By Edd Straw and Matt Beer | Friday, July 16th 2010, 18:13 GMT |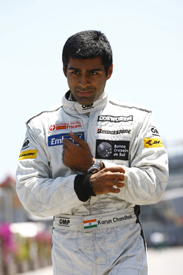 Karun Chandhok says he is unsure exactly what the rest of the 2010 season will hold for him after losing his Hispania seat to Sakon Yamamoto for Hockenheim - but is optimistic his absence will be brief.
A week after Yamamoto was abruptly put into Bruno Senna's car for the British Grand Prix, Hispania made the surprise announcement tonight that the Japanese driver would move across to Chandhok's seat for the German race at least.
Chandhok said there was no firm plan in place beyond Hockenheim at present, but that he was certain his season was not over.
"It's not defined for the rest of the season and I expect to be back in the car at some races," the Indian driver told AUTOSPORT.
"Probably not all of them, but I do expect to be back in the car and racing soon."
Senna is expected to complete the season in the other Hispania seat.