Highcroft wins again at Miller
| | |
| --- | --- |
| By Matt Beer | Sunday, July 11th 2010, 23:29 GMT |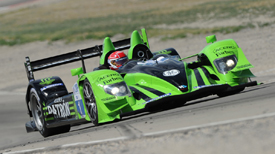 Highcroft's Simon Pagenaud and David Brabham took their HPD to a third straight victory in the American Le Mans Series at Miller Motorsports Park - but had to work hard to defeat the Drayson and Intersport teams.
It was Intersport's Jon Field who took full advantage of his LMP1-based Lola-AER's power to burst from fifth to first at the start, while the LMP2-derived Highcroft HPD was shuffled back to sixth.
Drayson Lola-Judd driver Jonny Cocker took the fight to Intersport in the opening laps and made it into the lead near the half hour mark.
Meanwhile Highcroft was picking its way slowly forward, and when the leaders all pitted under yellow after an hour, Pagenaud's crew got him out fastest and into the lead.
He would lose that advantage again to the two Lolas during the next stint, but then ran eight laps further than his main rivals before making his final pitstop half an hour from the end.
That was enough to vault Pagenaud back into the lead, 15s ahead of Cocker's team-mate Emanuele Pirro, and he inched slightly further away before clinching the win and bolstering his and Brabham's points lead still further.
With the Dyson Lola-Mazda stopping on track in the last half hour and Intersport losing time when Field made contact with the Green Earth Gunnar LMPC car, the CytoSport Porsche emerged in third.
Risi Ferrari dominated in GT with Jaime Melo and Gianmaria Bruni, who were only briefly headed when the #92 Rahal Letterman BMW decided to stay out as the other lead GT cars all pitted under an early yellow.
That strategy helped the #92 crew to second, ahead of the #3 Corvette, which fought back after a late penalty for running over its air hose.
Two punctures cost erstwhile GT points leader Flying Lizard Porsche, which fell to fifth in class ahead of the Giancarlo Fisichella/Toni Vilander Risi Ferrari, which was hampered by a back of the grid start after failing a ride height test, and later by a penalty for avoidable contact.
Victories in the one-make classes went to Level 5's Christophe Bouchut and Scott Tucker in LMPC and Black Swan Racing's Jeroen Bleekemolen and Tim Pappas in GTC.

Pos  Cl   Drivers                    Car             Time/Gap
 1.  P    Brabham/Pagenaud           HPD         2h45m43.162s
 2.  P    Cocker/Pirro               Lola           + 19.116s
 3.  P    Pickett/Graf               Porsche      + 1m30.374s
 4.  P    Field/Field                Lola            + 3 laps
 5.  PC   Tucker/Bouchut             ORECA           + 5 laps
 6.  PC   Jeannette/Zugel            ORECA           + 6 laps
 7.  PC   Figge/Hyatt                ORECA           + 6 laps
 8.  PC   Tucker/Wallace             ORECA           + 6 laps
 9.  GT   Melo/Bruni                 Ferrari         + 6 laps
10.  GT   Auberlen/Milner            BMW             + 6 laps
11.  GT   Magnussen/O'Connell        Corvette        + 7 laps
12.  GT   Mueller/Hand               BMW             + 7 laps
13.  GT   Bergmeister/Long           Porsche         + 7 laps
14.  GT   Fisichella/Vilander        Ferrari         + 7 laps
15.  GT   Sharp/van Overbeek         Ferrari         + 8 laps
16.  GT   Brown/Cosmo                Ferrari         + 8 laps
17.  GT   Sellers/Henzler            Porsche         + 8 laps
18.  P    Willman/Burgess            Lola            + 9 laps
19.  GT   Beretta/Gavin              Corvette        + 9 laps
20.  GT   Law/Neiman                 Porsche        + 10 laps
21.  GTC  Pappas/Bleekemolen         Porsche        + 11 laps
22.  GTC  Richard/Lally              Porsche        + 11 laps
23.  GTC  Rodriguez/Bieker           Porsche        + 12 laps
24.  GTC  Lewis/Vento                Porsche        + 12 laps
25.  GTC  Miller/Hines               Porsche        + 13 laps
26.  GTC  Beggs/Baron                Porsche        + 13 laps
27.  GT   Robertson/Robertson/Murry  Doran Ford     + 13 laps
28.  GTC  Curtis/Sofronas            Porsche        + 13 laps
29.  GTC  Sweedler/Kapudija          Porsche        + 14 laps

Retirements:

     P    Dyson/Smith                Lola-Mazda  73 laps
     GT   Dalziel/Goossens           Jaguar      57 laps
     PC   Marcelli/Wong              ORECA       21 laps
     GTC  Gonzalez/Diaz              Porsche     5 laps
     GTC  Gonzalez/Leitzinger        Porsche