| | |
| --- | --- |
| Melandri switches to Showa dampers | |
| | |
| --- | --- |
| By Toby Moody and Matt Beer | Friday, May 21st 2010, 17:13 GMT |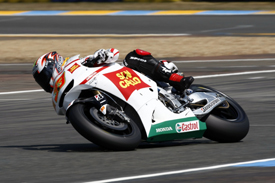 Gresini Honda's Marco Melandri has switched from Ohlins to Showa dampers starting from this weekend's French Grand Prix in a bid to turn his form around after a tough start to 2010.
Melandri struggled in pre-season testing and at Losail, although he showd better pace at Jerez - where he finished eighth.
The works Honda team changed from Showa to Ohlins materials last summer, but Melandri's crew chief Antonio Jiminez explained that his squad felt Showa was the better option.
"Late last night at 9pm the deal was still not done, but we were ready to jump in case we wanted to put in the Showas," said Jiminez. "Remember I was a Showa technician for many years before I was an engineer so I know the way it all works with suspension.
"The main thing is that the Honda is designed around Showa. That is the way the bike was designed. Remember that [Andrea] Dovizioso only ran Ohlins from Brno onwards last year.
"The worry I have with the fundamentals of the Ohlins is that they were from Yamahas and the Bridgestones when the mono-tyre came in - they were tyres that were made around [Valentino] Rossi's Yamaha... so it's been hard."
Jiminez hopes the change will help Melandri feel more comfortable on the Gresini Honda and boost his confidence.
"Marco rode this bike in Valencia last year after the GP and that was a Honda on Showas," he said.
"Basically, we've taken away an element from Marco's mind so he doesn't have to worry about it in his head while riding, and that's great. Get him right first..."