Wilson: Loeb's drive 'greatest ever'
| | |
| --- | --- |
| By David Evans | Saturday, May 8th 2010, 08:05 GMT |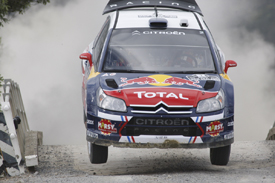 Ford team director Malcolm Wilson has labelled Sebastien Loeb's second-day assault on Rally New Zealand as the best performance he has ever seen in the World Rally Championship.
Loeb's sensational run of six fastest times to turn seventh place in to second on today's stages south of Auckland impressed everybody in the service park - with Wilson full of praise for what his rival had achieved.
"He took eight tenths of a second per kilometre out of Sebastien Ogier," said Wilson. "That's like having an extra 80 horsepower or something - that's the difference Sebastien Loeb can make as a driver. It's just incredible. He's a very special driver.
"I have seen some great drives in my time, but I've never seen anything like this. It's been a privilege to stand and watch what he has done, it will go down in history.
"I'm just brassed off that we've been on the receiving end of it. I don't care what anybody says, you've just got to admire that kind of performance."
Loeb overturned a 1m19s deficit, incurred when he slid into a bridge on the fourth stage yesterday, to stand just five seconds behind overnight leader Ogier, ahead of tomorrow's final day.