AJ Foyt IV to contest Indy 500 again
| | |
| --- | --- |
| By Matt Beer | Friday, April 23rd 2010, 09:47 GMT |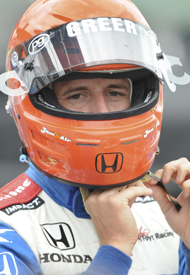 AJ Foyt IV is to return to the IndyCar Series for an Indianapolis 500 bid with his grandfather AJ Foyt's team.
The former team regular only raced twice last year, contesting Indy with Foyt Racing and then stepping in again for Texas following Vitor Meira's injury at Indy and Paul Tracy's decision not to become his full-time substitute. The drive eventually went to Ryan Hunter-Reay for the rest of the year.
"It's great to be back in an Indycar and I'm grateful to my grandfather for giving me another opportunity to drive at Indy," Foyt IV said.
"Although I haven't been in a car since Texas, I feel pretty confident going into this year's 500. I know Larry [Foyt] and AJ have been working hard to step up the team's performance and it really shows."
AJ Foyt added that he had no concerns about his grandson's recent lack of mileage.
"Even though it's been a year since Anthony's been in the car, he'll catch on pretty quick," he said. "I'm not worried about him getting back up to speed and we'll have a good car for him. I'm looking forward to working with him again."
Foyt also hopes to run a third car alongside Foyt IV and Meira at Indianapolis.