| | |
| --- | --- |
| Happy Hayden eyes more progress | |
| | |
| --- | --- |
| By Pablo Elizalde | Thursday, April 22nd 2010, 10:00 GMT |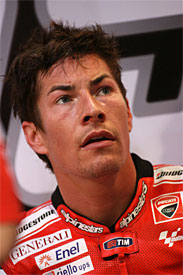 Nicky Hayden says there is still work to do before he is fully competitive despite a significant step forward this year, but he admits he has been pleased with the way things are going so far.
The 2006 world champion struggled with the handling of the Ducati during the most part of last year, but began to make progress towards the end of the season.
Hayden enjoyed a strong season-opening race in Qatar, where he was just pipped to a podium place by Honda's Andrea Dovizioso.
The Ducati rider admits he is feeling more comfortable on his bike this year, but reckons there is still progress to be made.
"I would say it kind of started toward the end of last year, the middle of last year," said Hayden during an Indianapolis GP teleconference. "We started to get some momentum going.
"I was faster than it really looked. We had some bad luck, some incidents, you know, where we didn't finish some races that hurt us every time we tried to get momentum going.
"But, for sure, this winter the bike is a little bit different, and I just feel a lot more comfortable on it and also with the team. It's the second year with the team after a long time on Honda's. It was a big change last year. I certainly didn't adapt the way I wanted to. But this year things seem to be going a lot better.
"The communication with the team is a lot better than it was last year. I feel comfortable. I like the bike. We've been quick testing, but we still got some areas we need to improve on. So we've got a lot of work to do."
The American says the changes made to his bike's engine for this year have been key in helping improve his situation
"I would say the engine certainly is smoother," he said. "And on the bottom, it just gives you a bit better feel when you open the power and try to accelerate out of the corner. This engine, you got more connectivity. You feel it better. But back to what I said a minute ago, I think a lot of it is just a second year on the bike and with the team.
"But the main thing for me, I need to go and be fast on a weekend that we show up on Friday and we don't have, like Qatar, two days of testing. And also like Malaysia, when I was quick.
"We had already been there once in testing, and it wasn't until the fourth day that I went quick. And that was one of my targets for this off-season was improve that. Really, I guess we'll find out at Jerez if that's the case."
And Hayden believes the satellite teams will also benefit from the easier-to-ride bike.
"I think so. It's hard for me to speak for anybody else. But I think we have a strong package. The chassis' good. The engine's good. We'll wait to see, a little bit, what the engine rules, what happens three or four races down the road when engines start getting a lot of miles on them.
"That's going to be one question that hasn't been answered yet. But no, I think we've got a good bike and some good riders on the Ducati. I think Qatar, only two of us finished, I think. So I think the results will improve from that."