Tracy confirmed for Indy with KV
| | |
| --- | --- |
| By Simon Strang | Saturday, April 17th 2010, 21:46 GMT |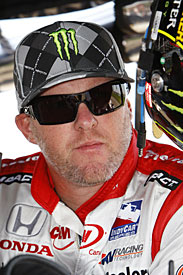 KV Racing has confirmed it will provide a fourth car for Paul Tracy to race in the 2010 Indianapolis 500, at a news conference prior to qualifying for the Long Beach Grand Prix.
Tracy, who has not raced in the IndyCar Series so far this season, will join KV regulars EJ Viso, Takuma Sato and Mario Moraes at the Brickyard as he makes his seventh attempt to win the event on May 30.
The 41-year-old had always been expected to join the team for certain events during the year and may yet take part in the Canadian races.
"I want to thank (co-owners) Kevin Kalkhoven and Jimmy Vasser of KVRT and GEICO for the opportunity to return to the world's biggest auto race," said Tracy. "I have won races and championships at the top level during my racing career, but what I'm missing is a win at Indy.
"I feel I have some unfinished business at the Brickyard and with an outstanding team like KV Racing Technology, I feel good about our chances at this year's 500."
Team co-owner Jimmy Vasser added that he was delighted to be able to give the IndyCar veteran another crack at his dream.
"It is tremendous to bring Paul back to the Indianapolis Motor Speedway again this year," said Vasser. "Paul was very competitive last year in the GEICO machine in his first Indy 500 in seven years. After last year's return to the Speedway, we believe Paul will be a contender for the win."
Tracy first competed in the Indianapolis 500 in 1992, and scored his best result in 2002 when he finished second to Helio Castroneves.