Horner: No need to change rules now
| | |
| --- | --- |
| By Jonathan Noble | Friday, April 16th 2010, 04:04 GMT |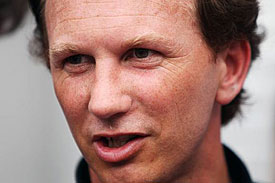 Red Bull Racing team principal Christian Horner thinks there is now no need for the FIA to open up the suspension rules in Formula 1 following its recent clarification about ride-height control.
Amid widespread suspicion that Red Bull Racing had been using a form of mechanical active-suspension to alter its ride height between qualifying and the race, the FIA wrote to teams after the Malaysian Grand Prix to make it clear that such a concept was deemed illegal.
The FIA's move prompted McLaren to abandon plans it had to introduce its own system to adjust ride height, amid talk of the governing body ending an expensive development push for complicated suspension systems by allowing teams to make a single change to their cars between qualifying and the race.
Horner has said, however, that he thinks the FIA's recent clarification is enough to bring the matter to a head - with him reckoning Ferrari is now the only team bothering to change its ride height - which it can do during pitstops through a dial on the side of the car.
When asked by the BBC if he would support a move to allow freedom to change ride heights between qualifying and the race, Horner said: "Why? One of the things that we have developed hard over the winter was a car that performs over a multitude of ride heights.

"The fact that we can run a high ride height and have a good car for qualifying is testament to the good job that the aerodynamicists have done over the winter.

"I don't believe any team other than Ferrari has a system that they can change [the ride height] at the pitstop.

"I can't see any point in changing it. The rules make sense and the FIA has now cleared them up. It saves us a load of money in creating a system that manipulates the ride heights."

Although Red Bull Racing has been on the receiving end of accusations about its suspension design, Horner actually thinks the whole issue has been a compliment to the speed of his RB6.

"It is great isn't it?" he said about the controversy. "This story has generated so many column inches and it all came about from Mark Webber running wide in Bahrain qualifying and a spark coming up from underneath his car.

"Suddenly we had a ride height control because people could not believe the lap times that the car was doing. We take it as a back handed compliment.

"The car is the same as it has been for the first three grands prix mechanically, there is no ride height control system on our car, there never has been, and it is a back handed compliment that the guys are doing a great job. It won't have any effect on us here, because it has quite simply never existed. It is amazing how excited people get about these things."