Briatore denies personal guilt
| | |
| --- | --- |
| By Pablo Elizalde | Monday, April 12th 2010, 18:57 GMT |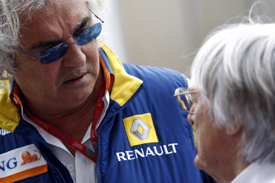 Former Renault boss Flavio Briatore has denied any personal guilt in the Singapore Grand Prix's race-fixing scandal after the Italian and the FIA reached a settlement on the matter.
The FIA said on Monday that both Briatore and engineering head Pat Symonds would be allowed to work in Formula 1 again in 2013 and in any FIA-sanctioned series from 2012.
The ruling body said both men had "expressed their regrets and presented their apologies to the FIA."
Briatore, however, said in a statement on Monday evening that, while he accepted his share of responsibility in the affair, he did not admit any personal guilt and did not accept the FIA decision was well-founded.
"He [Briatore] confirmed his acceptance to bear his share of responsibility in the Singapore events in his capacity of Managing Director of the Renault F1 Team, at the time they happened, without any admission of a personal guilt in these events and without any recognition of the fact that the decision of the World Council rendered against him would have been well-founded," said Briatore in a statement.
"Flavio Briatore informed the FIA of his intention not to undertake any operational role in Formula 1 before the end of 2012, nor in any other FIA Championship, before the end of the Racing Season 2011," it added.