Renault critical of Hamilton's weaving
| | |
| --- | --- |
| By Jonathan Noble | Sunday, April 4th 2010, 13:00 GMT |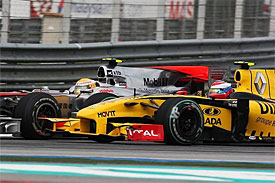 Renault boss Eric Boullier believes Lewis Hamilton was in the wrong for weaving to prevent an attack from Vitaly Petrov - but has ruled out taking the matter any further despite his McLaren rival only getting a warning.
Hamilton was fighting Petrov hard for position during the Malaysian Grand Prix and, after overtaking the Russian, he weaved down the start-finish straight several times to try and prevent a counter-attack.
That action prompted suggestions that Hamilton had broken the unofficial drivers' code of conduct that they can only make one directional move to defend a position.
However, with Hamilton accelerating out of a corner rather than coming under pressure into a braking zone, there were other arguments suggesting he was simply trying to break the tow.
Renault boss Eric Boullier said his team complained to race control about Hamilton's actions during the event - and felt the FIA should have done more than show the former world champion a black and white flag for unsportsmanlike behaviour.
"We just raised our point of view," Boullier told AUTOSPORT. "Very frankly, it is very clear in the regulations that you can have one change of direction, so when you do three in a row something is wrong.
"He got a warning for dangerous driving, but I am not sure it is enough. It is definitely clearly written in the regulations that you can not do any more than one direction change, and it is something you should not be doing."
When asked if Renault would pursue the matter further to seek clarification from the FIA, Boullier said: "No. A warning says that if you do it again you will be penalised."