Bridgestone: McLaren pit call was right
| | |
| --- | --- |
| By Jonathan Noble | Saturday, April 3rd 2010, 05:15 GMT |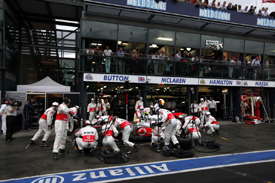 McLaren was right to call Lewis Hamilton in for another set of dry tyres in the Australian Grand Prix - even though the move was criticised by the former world champion as costing the outfit a 1-2 finish.
That is the view of Bridgestone's director of motorsport tyre development Hirohide Hamashima, who has revealed that Hamilton's first set of dry tyres in the race were virtually worn out when McLaren called him in.
The decision to bring Hamilton in caused big controversy during the race when he questioned the strategy call on team radio during the event - and criticised the team afterwards.
Speaking to AUTOSPORT, Hamashima said that both Hamilton and Mark Webber – who also stopped for a second set – needed to make stops while the cars ahead of them did not.
"Concerning Webber and Hamilton – their first dry tyres were almost worn out," he said following post-race analysis of their rubber. "They had to do a two-stop."
Hamashima has also revealed that Jenson Button's decision to push on through the race with a single set almost backfired because his tyres were nearly totally worn out when he took the chequered flag.
"Jenson's tread was almost finished," he explained. "It was a very, very dangerous situation for him."
Hamashima reckons that Fernando Alonso was actually the man who did the best job with the tyres – with the rubber on his Ferrari in brilliant shape at the end of the race.
"Fernando Alonso – fantastic! His taking care of tyres was tremendous. Great. Fernando was still looking very good."