Edwards, Keselowski settle feud
| | |
| --- | --- |
| By Diego Mejia | Saturday, March 20th 2010, 16:52 GMT |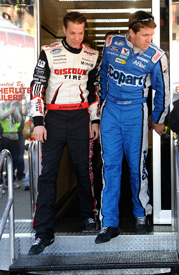 Carl Edwards and Brad Keselowski met with NASCAR officials on Saturday morning at Bristol and have settled their feud, following their on-track exchange at Atlanta - which resulted in a dramatic accident for Keselowski.
The meeting at the NASCAR hauler ended with both drivers coming out of the back doors together in front of the media, posing so as to show that the animosity between them is over. Their team bosses Jack Roush and Roger Penske were also part of the meeting.
"Everything went really well," Edwards said about the meeting. "I think the biggest thing coming out of that meeting is that now, I think, Brad and I understand one another a little better.
"I think we're going to be able to just go forward and go racing, and that's what this is all about. It was really cool to be able to talk with Jack and Roger and Brad all at once. We laughed. We cried. In the end, I think it's going to be good."
Keselowski did not reveal much about what was said behind closed doors, but rated the meeting as "productive". It was the first time he and Edwards had met following their incident at Atlanta two weeks ago.
"I don't know how Carl feels about it, but I don't think it's cool to say everything that was said in there," said Keselowski. "Hopefully, it will be productive to where we can move forward and continue to race each other hard and not have any more incidents like we had at Atlanta.
"We hadn't talked before. I wouldn't say there was anything said that surprised me. You have to understand, Carl and I have a mutual respect for each other in a sense we're almost the same people. We come from similar backgrounds. We drive the same way. I have a lot of respect for him before and after the accident. Hopefully, that will stay the same."
Keselowski added that he is willing to continue to race hard against Edwards but will try to be more tolerant whenever they meet on the track again. Both are competing full time in both the Sprint Cup and Nationwide Series.
"Carl and I have talked before about leaving each other more room, but it seems like when it came down to it, it just never worked out," Keselowski said. "It's racing. The biggest thing to me is incidents are going to happen because we race against each other more than 60 times. We're going to run beside each other. We just each have to build up a tolerance for that."
After leaving the NASCAR hauler Keselowski went on to set pole position for the Nationwide Series race, which Edwards will start from the outside of the second row.