Johnson: Keselowski has upset rivals
| | |
| --- | --- |
| By Diego Mejia | Friday, March 19th 2010, 23:51 GMT |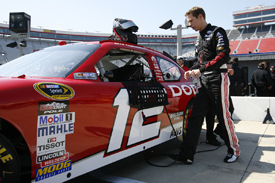 Jimmie Johnson believes Brad Keselowski's attitude on the track has left him unpopular among many of his NASCAR Sprint Cup Series rivals.
Keselowski has been at the centre of controversy following his violent flip two weeks ago at Atlanta, which came as consequence of retaliatory action from Carl Edwards following a series of past incidents between the Penske and Roush Fenway racers.
Reigning champion Johnson believes Keselowski's aggressiveness on the track has not made him many friends among the established drivers, something he believes may end up working against his own interests.
"I think Brad needs to know that there are a lot of guys he has rubbed the wrong way," Johnson said. "I think he needs to stay true to who he is, and I do respect that. But you go through the garage area, and he has for whatever reason turned the garage against him. And if I were in his shoes, I would be working hard to correct that.
"At the same time, we all have our own past, we all handle things differently and he's a great driver; he's a great talent and he's going to do great in the Penske cars. He's got to stand up for what he feels is right for him and his race team. But you just don't turn off a garage area as fast as he has for no reason. So he's got to work on that in my eyes."
The reigning champion was teamed with Keselowski at Hendrick Motorsports for the past two years as the latter drove in a number of Cup events for the squad while racing full-time for Hendrick co-owned JR Motorsports in the Nationwide Series.
Johnson denies having had any issues on the track with Keselowski, but believes that feuds between him and other Cup drivers have made him unpopular with many of his colleagues.
"I have not had any issues," said Johnson. "But if you watch the Nationwide races there's a long list starting with Denny Hamlin and Carl Edwards and there's just like an overall brewing of thought and discussion in the garage area.
"I think some of it has to do with when you come into the sport, especially at the top level as a rookie, if you like it or not, you're going to take a few lumps before you're given that opportunity to pass some out. And I believe he's come in and has passed out more bumps than he's taken."
Johnson's team-mate Dale Earnhardt Jr, who was Keselowski's boss for the past two years in the Nationwide Series, says his former driver is just learning his way in NASCAR's top series and expects his attitude to change as he becomes more experienced.
"He'll get to learn a lot of lessons in his rookie season - every rookie does - and he'll probably be glad to tell you guys all about it at the end of the season," Earnhardt said. "And I'm sure his tune will be just slightly different than it is right now."
Keselowski has stated following the Atlanta incident that he will not back down from his approach to racing, even if he does not plan to take his feud with Edwards further. Speaking at Bristol on Friday he said that he has felt support from his fans, who expect him to continue to race hard.
"The fans are like the ultimate gauge in our sport and ultimately dictate what's right or wrong," said Keselowski. "So far I've got a lot of positive response."
The Penske driver is set to meet with NASCAR officials and Edwards on Saturday at Bristol, when the two parties look set to settle their feud.
Subscribe to Premier Sports TV to watch all Sprint Cup events live in the UK. Visit www.premiersports.tv for more information.