WRC set to introduce longer events
| | |
| --- | --- |
| By David Evans | Wednesday, March 10th 2010, 09:23 GMT |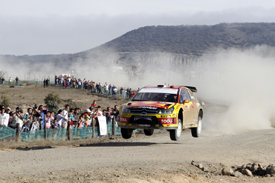 Endurance rallying could return to the World Rally Championship next year, if a proposed removal of the maximum number of competitive miles is implemented.
Rounds of the WRC are currently permitted to run anything up to 310 competitive miles, an increase from the 220-mile rule which had been in place prior to this season's increase. But that limit could be binned next year following a meeting of the WRC's Global Working Group.
WRC Commission president Morrie Chandler said: "This is something the working group has talked about and it could be interesting. At the same time, I'm not too sure how many rallies would be interested in running really long rallies due to the cost implication. It will be interesting to see how many events run to the higher limit this year, not too many I would imagine."
The working group is also investigating the possibility of merging selected cross country rallies into the WRC, although such a move would be at least two years away.