Button thrilled with McLaren effort
| | |
| --- | --- |
| By Matt Beer | Sunday, March 7th 2010, 09:25 GMT |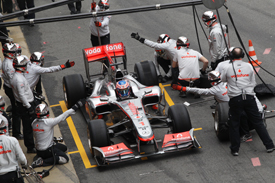 Jenson Button says the effort McLaren has put into preparing for the new season is greater than anything he has experienced in Formula 1 before - and that his switch to the Woking team is already paying off.
The reigning world champion has always maintained that the need for fresh motivation having clinched the title led to him leaving Brawn at the end of 2009. He says the change of team has been an reinvigorating as he hoped, and he already feels fully settled at McLaren.
"My winter has been an incredible learning experience - joining Vodafone McLaren Mercedes has provided me with exactly the sort of challenge I needed," Button said. "I have put every effort into working with the team, my engineers and learning about my car to ensure that we start the season in Bahrain in the best possible shape.
"I've never known a team work as hard as we have done over the winter – I've spent more time with my engineers this winter than I have before any other season, and I feel very comfortable about my preparations."
He added that starting the season as a defending champion for the first time would be both poignant and provide further motivation.
"I'm really looking forward to getting into my car on Friday morning in Bahrain and knowing that I'm the world champion," said Button.
"It's a responsibility and an honour – but it's something I'm going to enjoy for as long as I can. I don't want to lose that number from my car."
Team boss Martin Whitmarsh agreed that McLaren's preparations had stepped up another gear this year.
"We've been engaged in one of the most painstakingly diligent pre-season programmes that we've ever undertaken," he said. "We've amassed an enormous amount of data and we've learnt a considerable amount about MP4-25 in just four brief tests.
"We've been encouraged by our progress, we've been delighted with the input of both Jenson and Lewis [Hamilton] and, finally, we feel ready."
Hamilton added that the intense winter effort had left him confident that McLaren would be a frontrunner from the outset this time.
"There's been a huge workload, but it's been fantastic to work with Jenson and the engineers to improve MP4-25, and we're all extremely pleased with the progress we've made and the direction we've taken," said the 2008 champion.
"I think we have a very promising car beneath us: it's a real change of direction for us, and I think the possibilities with this car are very exciting."