Interview with Christian Horner
| | |
| --- | --- |
| By Jonathan Noble | Friday, March 5th 2010, 10:54 GMT |
Just over a week before the first race of the season, Red Bull heads to Bahrain as one of the main contenders for victory.
After finishing in second place in the championship last year, team boss Christian Horner feels Red Bull is ready to go one better.
AUTOSPORT talked to Horner about Red Bull's prospects for the season that's about to start.
Q. Where do you think you are?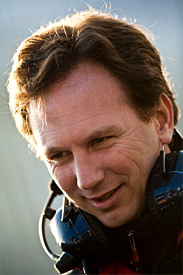 Christian Horner: To be honest, we've tried our best to ignore what's going on with everyone else. With the fuel loads, it's just so difficult to predict what people are doing. We're only in control of our own destiny, we've made good steps between Abu Dhabi and now, some of which you won't see until Bahrain.
What has impressed me more than anything is the commitment from the factory. It's been phenomenal - seven days a week has been the norm for many of our staff. What we saw last year is that it will go in waves, I don't think you're going to have one dominant team throughout the year. We finished the year with a great car, and we've evolved from that. Ferrari and Alonso look strong, and one thing I've learned is never to underestimate the opposition.
Q. Has the decision to skip the first test paid off?
CH: I don't think it's harmed us. If anything, Bridgestone limited the number of tyres you could run and I think it's meant there are a few teams that a tyre limited here while we're in reasonable shape. So we'll get better quality testing here. this is by far the most important test of the winter. I still absolutely stand by the decision – if it had been down to Adrian this is the only test we would have done. So I think we made the right call, and the progress has been good to see.
Q. Do you think that there will be no car that is good in every trim?
CH: Historically, the Ferrari has been very soft on its tyres, but then they struggle to get the most out of it in qualifying. We've arguably been the opposite of that. I think there will be a premium on qualifying. If you're up the front running in clean air then it's easier to look after your tyres. Obviously you're going to have to manage the race. Whereas it was effectively three sprints, the driver is going to have to protect the car, and manage the tyres so that he has something left when he wants to push. A thinking and intelligent driver will come to the fore.
Q. Are you in the position you'd hoped to be in at this stage?
CH: I think we're on track with our preparation. So far we're pretty happy.
Q. What are the main things that stand in your way of winning a championship?
CH: The key thing is understanding of the tyre. It's important for us. Parity of engine power is important because you can't run with your shoelaces tied together effectively. That's something the FIA are acutely aware of. Reliability will be key, consistency is going to be vital. All these aspects contribute to a championship.
Q. Is there anything that can happen with the engines now?
CH: Ultimately, when the engines were frozen there wasn't meant to be a difference between them. I know it's something that the EWG and the FIA have been looking at. But I'm not party to that group, that's down to Renault.
Q. Have all of the operational things that cost you points last year been addressed?
CH: We have a post-mortem after every season. You look at the things that didn't go quite so well. Some of them are so marginal, like the box release at Spa with Mark. It was right on the limit. Sebastian cutting the corner at Singapore, you look at them but you also look at the things you did well, like having four 1-2 finishes. We did a lot of good things last year which we're looking to build on, but you can always learn.
Q. What's the mindset for Bahrain?
CH: You've got to look at the campaign over the year. You can't underestimate the opposition, but expectations are high at Red Bull now. We're still an independent team, relatively small compared to the likes of Ferrari and McLaren.
We're a young team, but we've had continuity over the last few years and the team has become a really cohesive unit. There's also an inner confidence within the group. They saw the first signs of success in 2008, culminating in the 2009 car and hopefully we can carry that momentum into 2010.
Q. Do you feel ready to fight for the title?
CH: We just need to take one race at a time, try to maximise everything we have and the championship will take care of itself. I think you can get too focused on the championship. We just want to get the most we can out of every weekend. Do we have the tools to do the job? Yes I do. Mark's in great shape, we're very fortunate that we have a good balance of youth and experience. They work together very well and they push each other on.