Dallara reveals new Indycar proposal
| | |
| --- | --- |
| By Glenn Freeman | Friday, February 5th 2010, 12:02 GMT |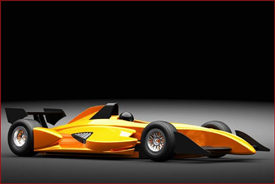 Dallara has released its proposals for the next generation IndyCar Series chassis, which will race from 2012 if the Italian manufacturer is selected by the Indy Racing League.
The future direction of the series is under the spotlight ahead of the unveiling of the highly-anticipated Delta Wing project at the Chicago Motor Show next Wednesday, and the IRL announced this week that Dallara, Swift and Lola were all also in contention to build the new car.
Dallara also confirmed that if its proposals are successful, then it will build the cars in America as requested by the series.
"Dallara as a company, a trusted, credible, stable and loyal partner for the Indy Racing League for the past twelve years, commits to support, service and develop this new car by locating a dedicated facility near the Indianapolis Motor Speedway," said the manufacturer¹s boss Gian Paolo Dallara.
"The new Dallara Indycar will be built in Speedway, Indiana and it will set new standards in terms of safety, fuel efficiency, raceability, technology performance and cost containment. We can achieve all of these objectives [set by the IRL]."
The manufacturer added that its new car would cost around 55 per cent of the current chassis price, and that teams would be able to carry a reduced number of spares due to the cars not requiring so many specific parts for different types of track.
It also predicts that the new car would allow for more exciting racing due to an aero-package that would be less sensitive in traffic.