Exclusive Q & A with Adrian Newey
| | |
| --- | --- |
| By Jonathan Noble | Tuesday, December 8th 2009, 14:38 GMT |
After a very successful season for Red Bull Racing, Adrian Newey says he has renewed enthusiasm for Formula 1.
Now he wants a better season in 2010.
AUTOSPORT spoke exclusively to the design genius.
Q. You have won with McLaren, with Williams and now with Red Bull. Do you consider this your third era in Formula 1?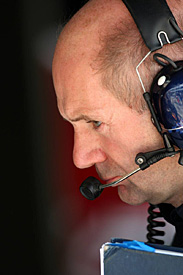 Adrian Newey: It is a very different time and a very different challenge. I think really, as I have said before, it goes back to unfinished business with Leyton House. I started my Formula 1 career with Leyton House as a very small F1 team. We tried to develop it, and bring it forward into a team that we hoped would win races. That was cut short with the financial problems that Leyton House got itself in to. I was then lucky enough to join Williams and, following that McLaren, as two great teams, two well established teams.
Hopefully I was able to bring a little bit but basically the infrastructure was there, the ability was there, and the knowledge was there on how to win championships. In joining Red Bull, it was really a fresh challenge to join a young new team, and be centrally involved along with Christian [Horner] in how to develop that team and try to bring it forwards.
Q. How do you view the last season? Was the diffuser issue at the beginning of the year the defining matter of the season? Was it frustrating for you, or pleasing that you were fighting for the world championship?
AN: I think overall, of course, it is easy to be frustrated. Motor racing is full of ifs and buts - but the reality is that if you said 12 months ago, you are going to win six races and finish second in the world championship, then obviously I would have bitten your hand off. So we cannot be disappointed. It was a fantastic year for the team. The bottom line was simply that we ran out of time in the second half of the year. We had a good car, but we ran out of races. The teams that came up with the double diffusers, they got that jump and good luck to them. That is the nature of F1.
Q. Are the lessons you have learned this year going to be a big help for Red Bull's challenge in 2010? Are you optimistic?
AN: I hope so. As we all know, motor racing does not tend to follow logical progressions from year to year. It is not that simple. McLaren and Ferrari, for sure, will be bouncing back from below average years from their point of view. Brawn/Mercedes will obviously be tough again and other teams will step in. So, it is never that simple. But I think our team has really developed a confidence and belief in itself now. We continue to develop the infrastructure, and that will hopefully bring us a decent result.
Q. How much excitement did you have when the new rule set was coming?
AN: I tend to be a person who gets very wrapped up in what they are doing at the moment. So actually, we didn't really get started on the new regulations until quite late. I remember early in 2008, I took the attitude to wait and see what the regulations are while the Overtaking Working Group was doing all its work – then we will see what we will come up with. So the first time I sat and read the regulations was in a quick break between Melbourne and Malaysia. I stayed out there, worked my way through the regulations, and tried to plan and understand what would be involved. So we were relatively late starters, but as we got into it, I think the team we assembled at Red Bull got behind it – and it was a great opportunity.
Q. Do you feel enthused again? You always love new regulations but the cars will be fairly similar in 2010...
AN: I feel enthused by the progress that the team has made, yes. As I have said many times, I love regulation changes. I think they sort of reset the baseline, whereas periods of long stability are really about tiny iterations, so are really a different mindset. I am not saying I don't like it, but size probably counts more than anything else in those situations.
But we have got some decent regulation changes next year. Primarily it is great to have seen how the team has grown over the last year, and to see the confidence and the smile on everyone's faces. The team has said that although it is a relatively new team in Red Bull, on the other hand, you could say it is actually Jaguar or even Stewart Grand Prix.
I think for the people, who have been there for a long time, it has really come as a great thrill to them that we can actually move forward. They suffered some tough times under Jaguar, with a lot of changes of management. But we have now had a great period of stability and Dietrich Mateschitz, our owner, has shown tremendous commitment to the team – and that has allowed us to survive.