Teams bosses vote Vettel best '09 driver
| | |
| --- | --- |
| By Jonathan Noble | Thursday, November 19th 2009, 09:51 GMT |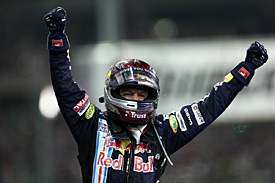 Sebastian Vettel may have lost out on the world title in 2009, but he has been rated as the season's best driver by team bosses in AUTOSPORT's annual top ten.
AUTOSPORT once again enlisted, in total privacy, the driver ratings from all ten of the current team principals to figure out who the key men in the paddock believe was the star driver of the year.
With the rankings then converted into points (on a 10-8-6-5-4-3-2-1 basis), the results were collated and have been published for the first time in AUTOSPORT's F1 Season Review, on sale in newsagents now.
And it is Vettel who has come out on top, over world champion Jenson Button - with last year's number one rated driver, McLaren's Lewis Hamilton, coming a close third.
The full AUTOSPORT F1 Team Principals' top ten results for 2009 are:
 1. Sebastian Vettel       76
 2. Jenson Button          67
 3. Lewis Hamilton         65
 4. Fernando Alonso        39
 5. Rubens Barrichello     35
 6= Kimi Raikkonen         30
 6= Mark Webber            30
 8. Felipe Massa           19
 9. Robert Kubica          10
10. Adrian Sutil           8

Vettel was clearly delighted about being ranked as the best driver by team principals, but equally knows that the real target is to achieve the number one spot on track.
"It's an honour to be recognised after such an exciting season with many ups and downs," he told AUTOSPORT. "However, the votes won't help me be faster on the track next year and it will still be down to me to prove myself again next season."
Red Bull Racing boss Christian Horner, who joined in fellow team principals in contributing his own rankings for the vote, was equally happy with the outcome.
"Sebastian had a great year in 2009 and I am certain he has the makings of a future world champion," Horner told AUTOSPORT.
"It's easy to forget how young he is sometimes. He's very mature in how he works with the car and his engineers - and it's remarkable to think that he can only just hire a rental car.
"It's great to see that his talent has been recognised by others and we're very much looking forward to working with him again in the coming seasons."
* AUTOSPORT's 42-page F1 season review in this week's issue of AUTOSPORT contains in-depth analysis of Button's championship winning campaign, and expert insight into the performance of the teams, the real story behind the off-track political wrangles and Mark Hughes' own top ten driver rankings.