Toyota apologises for lack of success
| | |
| --- | --- |
| By Matt Beer | Wednesday, November 4th 2009, 09:18 GMT |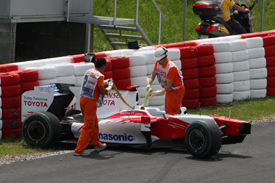 Toyota says it regrets its lack of success in Formula 1, and apologised to its fans as it announced its decision to leave the sport today.
When the Japanese car giant joined the world championship in 2002, rivals feared its huge budget and the company's technical resources would see it swiftly become a title contender.
But it never lived up to expectations, failing to score any wins during its eight seasons in F1. Its best constructors' championship position was fourth in 2005.
Company president Akio Toyoda told a news conference in Tokyo that economic pressures had forced its exit, and that it was disappointing to be leaving the sport before it had achieved its goals.
"This was a difficult but ultimately unavoidable decision," Toyoda was quoted as saying by Reuters. "Since last year with the worsening economic climate, we have been struggling with the question of whether to continue in F1. We are pulling out of Formula 1 completely.
"I offer my deepest apologies to Toyota's many fans for not being able to achieve the results we had targeted."
Toyota came closest to victory at the start of 2005, when its car proved the closest challenger to eventual champion Renault in the opening rounds, but it had to settle for podium finishes.
It was also among the frontrunners at the start of this season, benefiting from being one of the three teams to capitalise on the double diffuser rules loophole, but did not convert that pace into a win.
The team leaves F1 with a tally of three pole positions and 13 podium finishes.