Brawn thankful to Barrichello
| | |
| --- | --- |
| By Pablo Elizalde | Monday, November 2nd 2009, 14:58 GMT |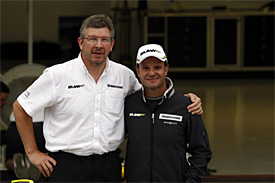 Ross Brawn has praised Rubens Barrichello's contribution at the Brawn team following the confirmation that the Brazilian will leave the squad.
Barrichello, the most experienced driver in F1 history, finished in third place in the standings this year, having scored two wins as Brawn went on to take both titles.
The veteran Brazilian, however, will leave Brawn and join the Williams team in the 2010 season, when he will be partnered by German Nico Hulkenberg.
Team boss Brawn thanked Barrichello for his work at the Brackley-based squad.
"We are very pleased for Rubens that he will be driving in Formula 1 once again next year," said Brawn. "Rubens was with our team for four years and we regard him as a highly experienced and talented driver whose contribution to the team over that period was significant.
"2009 was a very special season for Brawn GP and I am extremely proud of the spirit in which our drivers Rubens and Jenson fought for the Drivers' Championship.
"Rubens contributed hugely to our success in the Constructors' Championship with two great victories in Valencia and Monza along with numerous podiums and he was a pleasure to work with.
"We wish Rubens the very best with his new team and thank him for his contribution to Brawn GP this year."