Indy tests tweaks to improve racing
| | |
| --- | --- |
| By Matt Beer | Thursday, October 1st 2009, 09:38 GMT |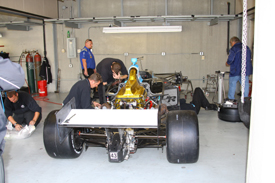 The Indy Racing League has tested some aerodynamic adjustments that it hopes will improve the quality of racing at next year's Indianapolis 500.
Andretti Green's Marco Andretti, Dreyer & Reinbold's Tomas Scheckter and Foyt's Vitor Meira ran without vertical wickers on the end fences of their cars' rear wings, and with the rain light in a different position, during testing yesterday.
The intention of the changes is to reduce the level of turbulence behind the cars, but Scheckter said the results were inconclusive without a full field to measure the Dallara-Hondas' behaviour in race-style traffic.
"I think the big thing is how it reacts in traffic," Scheckter said. "With the rain light and end fences you've got a little bit bigger a tow but you couldn't follow cars as closely in the corners, and to try and improve the racing maybe this is the way to go."
The Indy 500 was one of several IndyCar Series oval races criticised for being processional in the first half of the year. The series organisers consequently made a series of aerodynamic tweaks and introduced a 'boost button' that temporarily offered a power increase.
This led to significantly more overtaking at Kentucky and Chicagoland in August, although there were also concerns that the changes encouraged the kind of wheel to wheel pack racing that led to a number of massive accidents in the early 2000s.