Fernando Alonso insists he is not looking to leave Ferrari F1 team
| | |
| --- | --- |
| | Tuesday, September 2nd 2014, 10:58 GMT |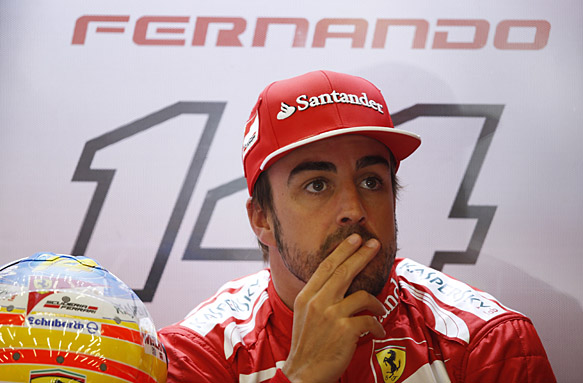 Fernando Alonso insists he remains committed to Ferrari for now, despite a fresh push by McLaren to lure the Spaniard for its new Honda era.
As AUTOSPORT reported last week, McLaren is holding fire on sorting out its 2015 driver line-up until it knows what the plans of Alonso and Sebastian Vettel are.
The Woking-based team wants an answer from both men imminently, as it is eager to sort out its driver plans before the Singapore Grand Prix later this month.
But despite the fresh interest from McLaren, Alonso has made it clear ahead of the Italian Grand Prix that he is still determined to win the world title for Ferrari.
"It's not my intention at the moment to move," he told Sky Sports News when asked about his feelings on the fresh McLaren interest.
"I want to win for Ferrari, I want to win here and finish the job that we started some years ago and we will see what the future comes."
Although Alonso has a contract with Ferrari until the end of 2016, that has not stopped ongoing speculation about his future.
Last year, he was linked with Red Bull after his manager approached the outfit, while this season McLaren has been open about its intent to bring the Spaniard back to the team despite the acrimonious split they had at the end of 2007.
Alonso insists, however, that he has never said he wants to leave Ferrari, and he says that although overtures from other teams do pose problems it does show his value.
"Obviously there has been a lot of talk from the summer of last year, the start more or less, but from my mouth never came any interest to leave Ferrari or any words saying that I will join another team," he said.
"There are a lot of speculations which is not disturbing but it creates a bit of tension around and stress.
"But also you feel proud, you feel happy that the best teams have interest in you and they say it in public. "
AUTOSPORT SAYS...
Jonathan Noble, Group F1 Editor (@NobleF1)
Fernando Alonso is as precise with his words off the track as he is with his driving on it.
That is why it is important to look at the specifics of everything he says, rather than just the headline grabbing sound bites, to fully understand what the Spaniard is really thinking.
For while his latest commitment to Ferrari would appear to dash all of McLaren's hopes of luring him to Woking in the future, Alonso has actually left the door slightly open.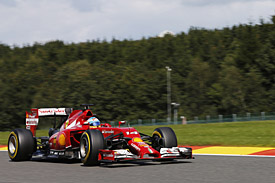 Right in the middle of his comment about staying at Ferrari, his use of 'at the moment' is interesting, for it appears to put a timeframe on his devotion to Maranello.
Few people - even those inside McLaren - expected Alonso to turn his back on a revamped Ferrari just now and take the gamble of switching to unproved Honda engines next year. It could well be a jump from the frying pan in to the fire.
The most sensible option for Alonso was always going to be to stay put for at least one more year, as the options he has now will still be there in 12 months' time.
By the summer of 2015, Alonso will not only have a much better idea of the scope of progress being made at Ferrari under Marco Mattiacci, but he will also know just how good the new Honda engine is.
Furthermore, with Sebastian Vettel perhaps unsettled at Red Bull, and relations between Nico Rosberg and Lewis Hamilton at breaking point at Mercedes, there could well be possibilities elsewhere on the grid too.
Alonso's message in what he said today is clear: I want to win at Ferrari and right now that is my intention.
But do not think that what he says today will stand true this time next year if Ferrari is not pushing at the front of the grid. Then it will be game on for 2016.