Brands Hatch British F3: Fortec's Cao and Ferrucci share poles
| | |
| --- | --- |
| By Marcus Simmons | Saturday, August 30th 2014, 14:30 GMT |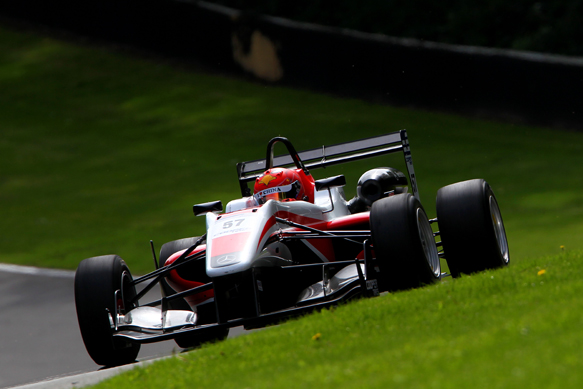 Martin Cao grabbed honours in British Formula 3 Championship qualifying at Brands Hatch on the very last lap of the session.
Cao left it until the last moment to deny European F3 racer Santino Ferrucci, who has stepped into the Fortec Motorsport squad this weekend alongside title battlers Cao and Matt Rao for a British F3 one-off.
American Ferrucci - with just 17 laps under his belt in the Fortec car, at Brands and on the Cooper tyres - looked to have done enough to claim both poles until Cao's last-lap effort, despite going for only one qualifying run.
On second-best times, Ferrucci claimed pole for Saturday afternoon's opening race of the weekend by just 0.023 seconds.
"On my first set of tyres I was not pushing hard enough," said Cao. "But on my second set, when the tyres came in, the track was hotter and there was more grip, luckily I did it."
The spectacular Ferrucci elected to keep one set of tyres fresh for the races, and declared the Brands Grand Prix circuit to be his second favourite track, behind Spa.
"The track is phenomenal, I love it," said the 16-year-old. "The elevation change is incredible. You have to really go for it, but it has no forgiveness."
Carlin's Peter Li put in his best performance so far to claim third on the grid for both races, while championship leader Matt Rao only lifted himself to fourth right at the end of the session.
Rao's late effort demoted Camren Kaminsky, who went off at Sheene Curve late in the session but narrowly headed Double R Racing team-mate Dan Wells, who is making his F3 race debut this weekend.
On second-best times, Wells reversed the positions by taking fifth from Kaminsky.
Max Marshall, driving Double R's older-spec car, brings up the rear for both races.
Race one grid:

Pos  Driver            Team/Car               Time       Gap
 1.  Santino Ferrucci  Fortec Dallara-Merc    1m19.743s
 2.  Martin Cao        Fortec Dallara-Merc    1m19.766s  +0.023s
 3.  Peter Li          Carlin Dallara-VW      1m20.118s  +0.375s
 4.  Matt Rao          Fortec Dallara-Merc    1m20.299s  +0.556s
 5.  Dan Wells         Double R Dallara-Merc  1m20.419s  +0.676s
 6.  Camren Kaminsky   Double R Dallara-Merc  1m20.422s  +0.679s
 7.  Max Marshall      Double R Dallara-Merc  1m21.527s  +1.784s

Race three grid:

Pos  Driver            Team/Car               Time       Gap
 1.  Martin Cao        Fortec Dallara-Merc    1m19.495s
 2.  Santino Ferrucci  Fortec Dallara-Merc    1m19.698s  +0.203s
 3.  Peter Li          Carlin Dallara-VW      1m19.859s  +0.364s
 4.  Matt Rao          Fortec Dallara-Merc    1m20.248s  +0.753s
 5.  Camren Kaminsky   Double R Dallara-Merc  1m20.274s  +0.779s
 6.  Dan Wells         Double R Dallara-Merc  1m20.343s  +0.848s
 7.  Max Marshall      Double R Dallara-Merc  1m21.370s  +1.875s

Race one grid: Second-fastest qualifying times
Race two grid: Race one result partially reversed
Race three grid: Fastest qualifying times