Felipe Massa says Williams F1 team must improve pit procedures
| | |
| --- | --- |
| By Ben Anderson | Wednesday, August 27th 2014, 11:38 GMT |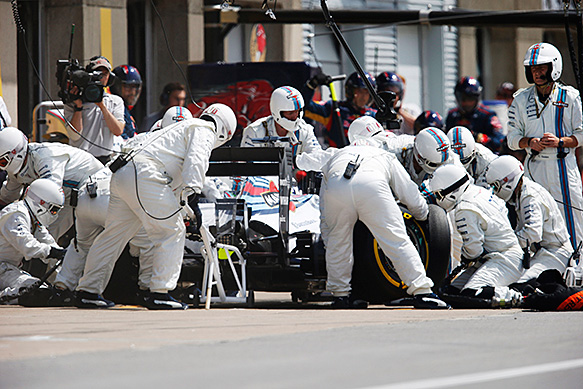 Felipe Massa believes the Williams Formula 1 team must improve its pitstop procedures, after he suffered a troubled run to a point-less 13th place at the Belgian Grand Prix.
Williams headed to Spa expecting to enjoy its best chance yet of challenging the dominant factory Mercedes cars, but came away with a single podium finish for Valtteri Bottas while Massa's race was compromised by debris from Lewis Hamilton's puncture becoming lodged in his car's floor in the early stages.
Williams also struggled in wet qualifying on Saturday and Massa said this, and the fact it took until his second pitstop to remove the debris in the race, suggested Williams needed to work harder on its trackside operations.
"We need to review and improve the procedures," Massa said. "In many things, not just in that [the debris incident in the race].
"In qualifying we didn't do a perfect job in the procedures, so it's something I'm working on and pushing very hard, but the team is growing. I hope it's something that won't happen anymore."
The team's vehicle performance chief, Rob Smedley, conceded Williams had dropped points at Spa and needed to do better, despite the its obvious delight at a fourth podium in five races for Bottas.
"We've probably dropped some points, it's fair to say," Smedley said.
"We're operating at a much better level than we were 12 months ago, that's clear, but we're not operating at a good enough level for winning races and eventually world championships.
"Not just based on [Spa], but based on the journey this team is on, we do need to improve operations, and we will improve operations."
Smedley reckoned Bottas would have been able to fight Daniel Ricciardo's Red Bull for victory had Williams qualified better in the wet.
"If we'd got everything perfect, we could have been third and fourth on the grid," Smedley added.
"Had we done that, and Valtteri had been in third position from the outset, then he would have been the car that was benefiting from the Mercs tripping over each other.
"We would [then] have been able to fight a lot harder with Ricciardo.
"They all feel like wins that have got away, and they should continue to feel like that. We should never be happy even if we get on the podium I'm never going to be happy until we're winning races."