Tomas Enge praises Lamborghini's strength after big Blancpain crash
| | |
| --- | --- |
| By Gary Watkins | Tuesday, August 26th 2014, 12:34 GMT |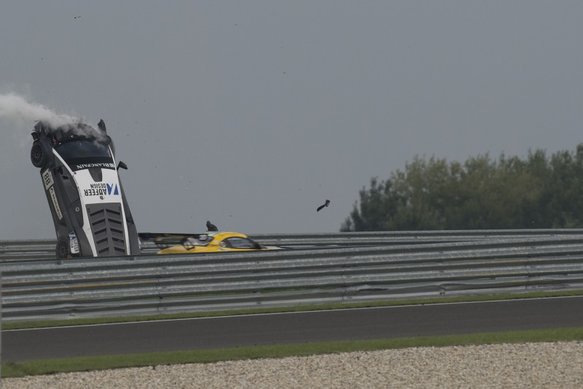 Tomas Enge has paid tribute to the strength of his Reiter Lamborghini after walking away from a multiple roll at the Slovakia Ring Blancpain Sprint Series event last weekend.
The Czech driver crashed following contact with Stef Dusseldorp's HTP Mercedes between Turns 1 and 2 at the start of the qualifying race on Saturday.
Enge's Lamborghini Gallardo FLII rolled end over end after hitting the barriers and then came to rest on top of them.
"That I was able to get out of the car and walk away was a credit to Reiter," said Enge, who was sharing the car with Stefan Rosina. "It shows that they build a strong car.
"I looked at the car afterwards, and the seat brackets were bent a little bit, but all the safety stuff did its job."
Enge said that a "natural reaction" made him get out of the car as soon as it had stopped moving.
"You want to get out as quickly as possible after a big accident like that," he explained.
"I couldn't hold the door open as I was trying to get out, so one of the marshals must have done it for me; otherwise I got out on my own."
The Czech driver said that he felt a bit sore the morning after the crash and had a suspected cracked rib, but expects to be fit to take part in this weekend's ADAC GT Masters event at the Nurburgring at the wheel of Reiter's Chevrolet Camaro GT.
VIDEO: ENGE'S SLOVAKIA RING CRASH
The accident happened during the chaotic opening exchanges of the BSS qualifying race at the Slovakia Ring.
Enge had already put two wheels on grass on the start-finish straight after making a good start from seventh on the grid.
He had a quick run out of Turn 1 and was alongside Dusseldorp's fifth-placed Mercedes-Benz SLS AMG when he tried to jink to the left to move past Rene Rast's WRT Audi R8 LMS ultra.
Contact with the Mercedes put Enge's Lamborghini into a tank-slapper that took it onto the grass, through the gravel and into the barriers.