Red Bull not thinking of F1 title tilt despite Daniel Ricciardo win
| | |
| --- | --- |
| By Jonathan Noble | Tuesday, August 26th 2014, 09:41 GMT |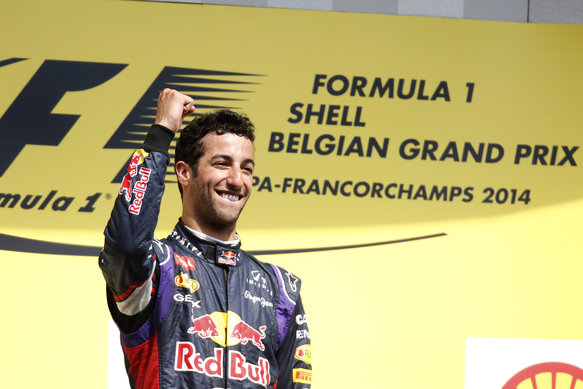 Red Bull is not getting carried away with the thought of a Formula 1 title run for Daniel Ricciardo, despite him outscoring the Mercedes drivers since the Monaco Grand Prix.
Ricciardo was able to take his third victory of the season at Spa after championship rivals Nico Rosberg and Lewis Hamilton crashed into each other.
That result means Ricciardo is 64 points adrift of Rosberg, but only 35 points behind Hamilton.
The Australian has the highest score of all drivers in the six races from Canada to Belgium, taking 102 points in that period compared to Rosberg's 98 and Hamilton's 73.
With 50 points available for the season finale, plus tracks coming up after the Italian GP that should suit Red Bull, the Australian could find himself in with a shout of the title at the end.
Red Bull boss Christian Horner admitted that his team's success at Spa owed much to the Mercedes duo's collision at Les Combes on the second lap.
"We've benefited from a get-together between the Mercedes," explained Horner. "But it is good to be keeping them honest.
"This was a track where we didn't expect to be competitive at, yet we managed to win there.
"We have won at Montreal and Spa, which are the two most unlikely tracks that we would have picked pre-season, and all we can do is focus on ourselves and go race by race.
"It is remarkable that Daniel has won only one less race than Rosberg this season.
"But we just take things one race at a time. We have had a good couple of grands prix, but to win in Spa is against all our expectations. Hopefully we have some tracks that should be quite good for us coming up."
WHEN WARRING TEAM-MATES HANDED IT TO RIVALS
Mercedes' intra-team issues and Ricciardo's progress have raised the spectre of past F1 title battles where an outfit in a potentially commanding position let the championship slip through its fingers.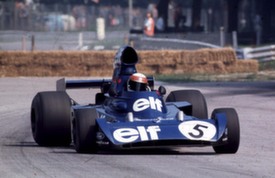 1973
The Lotus 72 was arguably the best car of the season, but reigning champion Emerson Fittipaldi and Ronnie Peterson split the team's seven wins between them.
Peterson even failed to move aside for title contender Emmo at Monza, allowing Tyrrell's Jackie Stewart to secure the crown with two rounds to spare.
1 Jackie Stewart (Tyrrell) 71
2 Emerson Fittipaldi (Lotus) 55
3 Ronnie Peterson (Lotus) 52
1981
Williams duo Alan Jones and Carlos Reutemann's enmity escalated after Reutemann ignored team orders in Brazil. Nelson Piquet had no such hassle from journeyman team-mate Hector Rebaque and pipped the Williams pair at the post.
1 Nelson Piquet (Brabham) 50
2 Carlos Reutemann (Williams) 49
3 Alan Jones (Williams) 46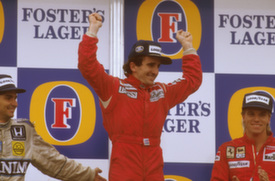 1986
Piquet saw no logic in Williams allowing Nigel Mansell to challenge his status, and the Brit equally had no interest in giving way to his ex-champion team-mate.
With the dominant team's squabbling duo splitting the wins between them, there was an open goal for Alain Prost in the slower McLaren when Williams had its infamous tyre trouble in Adelaide.
1 Alain Prost (McLaren) 72
2 Nigel Mansell (Williams) 70
3 Nelson Piquet (Williams) 69
2007
Fernando Alonso and Hamilton's war at McLaren exploded amid pitlane blocking, allegations of favouritism and the exposure of a 'spy scandal'. Kimi Raikkonen crept up on the blind side with a late win flurry as it all fell apart for the Woking squad.
1 Kimi Raikkonen (Ferrari) 110
2 Lewis Hamilton (McLaren) 109
3 Fernando Alonso (McLaren) 109