Massa thinks Rosberg could've been penalised for Hamilton clash
| | |
| --- | --- |
| By Ben Anderson | Monday, August 25th 2014, 15:50 GMT |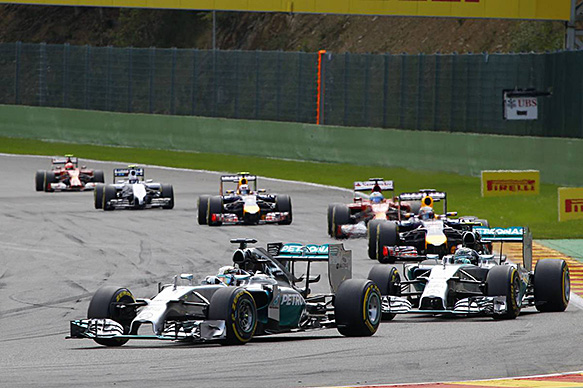 Williams Formula 1 driver Felipe Massa believes a case could be made for penalising Nico Rosberg for his Belgian Grand Prix collision with Mercedes team-mate Lewis Hamilton.
Rosberg and Hamilton clashed on lap two of Sunday's F1 race at Spa, as Rosberg attempted to re-pass his Mercedes team-mate for the lead around the outside of Les Combes.
Hamilton, who eventually retired, claimed Rosberg had admitted in a post-race team meeting that he allowed their collision to 'prove a point'.
Rosberg maintains the collision was a racing incident and governing body the FIA took no action against him during the race.
Massa suggested Rosberg, who recovered to second after a front wing change, should be held accountable for the incident.
"Maybe Nico created a problem for the other guy and maybe he should have been penalised," said Massa.
"He was outside, so when he touched the car he was in a position where it was impossible to overtake.
"He touched the other car and the other car blew the tyre, so in my opinion the way it was is not fair.
MERCEDES INTRA-TEAM WAR

Mercedes braced for orders decision

Hamilton says Rosberg trust may be gone

Hamilton: Rosberg said clash deliberate

ANALYSIS: Rosberg not a villain
"To be honest we [drivers] cannot see the front wing [from inside the cockpit], but he was on the side, so he was in the position where it was better to back off already.
"He was on the side and the other car was doing the corner, so in my opinion it's more related to Nico, because Lewis cannot see very well."
Furious Mercedes bosses warned the championship leader he may face sanction within the team, and hinted they may change their approach of allowing both drivers to race freely, but Massa believes this would be the wrong move.
"Both drivers are fighting for the championship so you need to leave them to fight," he added.
"It's not really for the team [to interfere]."
ALONSO: TRICKY BALANCE FOR MERCEDES
Massa's former Ferrari team-mate Fernando Alonso said Mercedes' current dominance has helped create a situation where its drivers' rivalry could spill over.
"Part of the problem they have is because they're dominating," Alonso said.
"They've been racing fantastically well all through the season and we've been saying how good the team was letting them fight - Bahrain for example was a fantastic race and a fantastic fight that everyone enjoyed.
"Now they've touched a little bit and there will be some talks about this, but it's difficult.
"If one team lets the drivers fight, until they touch that team is fantastic; when they touch, that team is not good anymore.
"It's a very narrow line to try to make everyone happy.
"[But] they're leading both championships by big margins so they're doing something good."