Belgian GP: Fernando Alonso reckons podium finish was possible
| | |
| --- | --- |
| By Ben Anderson and Matt Beer | Sunday, August 24th 2014, 16:01 GMT |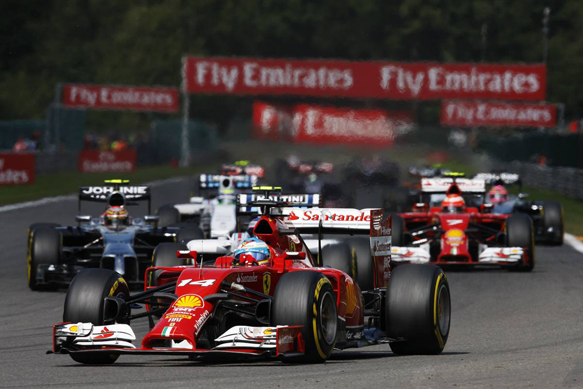 Fernando Alonso believes he was on for a Belgian Grand Prix podium without the penalty his Ferrari team incurred at the start of the Spa Formula 1 race.
Alonso had to take a five-second stop/go penalty within his first scheduled pitstop as some of his mechanics were still working on his car after the signal to clear the grid had been given.
The Spaniard's Ferrari had refused to fire up due to what Alonso suspected was a battery issue, but team boss Marco Mattiacci put down to a problem with the starter itself.
As Valtteri Bottas eventually finished third for Williams, Alonso reckoned the fact he had led the Finn prior to his penalty boded well for his podium chances.
"The battery at the start was the biggest problem we had because I was in front of Bottas when I stopped, and Bottas finished third," said Alonso.
"We would have probably been around those positions.
"I felt more or less competitive all through the race. We knew that straightline speed was probably our biggest problem and when you have that penalty and you start fighting for lower positions, that lack of speed has a higher price.
"But I felt more or less competitive and more or less happy with the balance of the car."

Mattiacci: Leading Ferrari out of the darkness?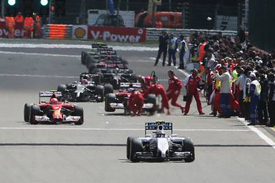 Mattiacci said the grid incident left him frustrated.
"We made a mistake that penalised Fernando," he admitted. "That's something that I'm really not happy about."
"We did not understand immediately what was going on."
Alonso ultimately crossed the line in eighth, gaining one position to seventh when Kevin Magnussen was penalised for squeezing him off the road during their late battle.
With Kimi Raikkonen taking fourth, Alonso was defeated by his team-mate for the first time in the 2014 F1 season, but was relaxed about this.
"He had to anticipate to overtake us at the first stop," he said.
"I had the penalty, so on whatever lap we stopped we would have exited behind the traffic, so my race was probably over there.
"We tried to optimise Kimi's race to have the maximum points - it's normal."