Sonoma IndyCar: Points leader Will Power claims pole for Penske
| | |
| --- | --- |
| By Mark Glendenning | Sunday, August 24th 2014, 01:29 GMT |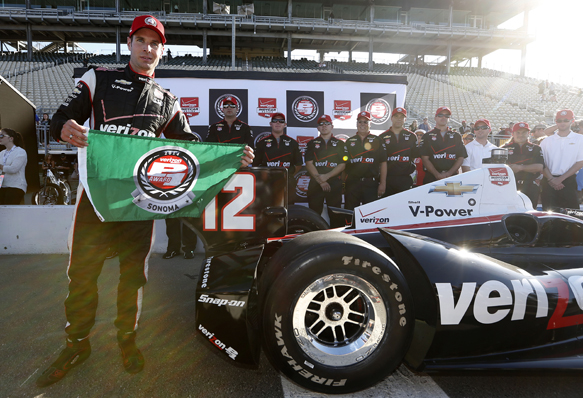 Will Power will start the IndyCar race at Sonoma from pole position for Penske after a dramatic qualifying session late on Saturday afternoon.
Power secured the top spot with a fastest lap of 1m17.4126s, although he actually went faster during the opening qualifying phase, resetting the track record with a 1m17.2393s.
"I didn't think the first flying lap would be pole," said Power. "We thought we could go quicker with the newer tyres, but it was the same as Barber - the older tyres turned out to be the ones that did it."
It could have been an all-Penske front row were it not for a couple of mistakes from Power's team-mate and title rival Helio Castroneves, who tumbled from second to sixth in the final couple of minutes via the loss of his best lap for exceeding track limits.
"We were in a very good position to be on the front row and it sounds like the wind shifted a bit and I wasn't able to stop," he said.
"I knew we were going to be close so I was pushing a little bit harder hoping for a miracle. We know what we need to do tomorrow."
Josef Newgarden stepped up to fill the gap left vacant by the Brazilian, finishing up second-fastest with a time 0.3 seconds down on Power's.
"We've been there a couple of times this year and I've been figuring it out," he said. "I think we were two seconds off at this track in 2012, so to be up front now is a pretty big deal."
Scott Dixon and James Hinchcliffe will line up from the second row; a result that Hinchcliffe said was unexpected after a brake imbalance prompted a slow start to the weekend.
"We've had an awful day up to this point," he said. "I've spun five times so far today - I spun twice on the same lap, which I don't think I've ever done in my life.
"So we had some serious issues, and didn't really know what we had for qualifying. We probably had a bit more; I was taking it easy in Turn 7. But I've been backwards three times in Turn 7, so..."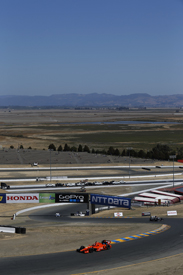 While three of the six drivers still mathematically in title contention qualified on the first three rows, it was a disastrous afternoon for the others.
Simon Pagenaud was disappointed not to progress from the early groups in 15th after feeling that he had a reasonable car, while 10th-placed Ryan Hunter-Reay was left ruing a set-up gamble that backfired.
"We were going for pole, we gambled on something really big on set-up, and the car wouldn't take it," he said.
"We're at the point where we can start getting a little creative with our approach. We're a bit disappointed about where we're sitting but we can make it up tomorrow."
Even less happy was Juan Pablo Montoya, who appeared set to progress from the first group until he was docked his fastest lap for a track limit infraction at Turn 11.
"It was very IndyCar-like," said the Colombian, who will start 19th. "It's just disappointing - I am never over the line, I'm on the line, and they said, 'oh you shouldn't be on the line'.
"If I had gained an advantage I'd understand, but it's just inconsistency."
Pos  Driver              Team/Engine      Time        Gap
 1.  Will Power          Penske/Chevy     1m17.4126s
 2.  Josef Newgarden     Fisher/Honda     1m17.7318s  +0.3192s
 3.  Scott Dixon         Ganassi/Chevy    1m17.9044s  +0.4918s
 4.  James Hinchcliffe   Andretti/Honda   1m17.9565s  +0.5439s
 5.  Ryan Briscoe        Ganassi/Chevy    1m18.1217s  +0.7091s
 6.  Helio Castroneves   Penske/Chevy     1m18.8771s  +1.4645s
 7.  Sebastien Bourdais  KV/Chevy         1m17.7176s  Round 2
 8.  Tony Kanaan         Ganassi/Chevy    1m17.7231s  Round 2
 9.  Carlos Munoz        Andretti/Honda   1m17.7257s  Round 2
10.  Ryan Hunter-Reay    Andretti/Honda   1m17.7499s  Round 2
11.  Charlie Kimball     Ganassi/Chevy    1m17.7532s  Round 2
12.  Mikhail Aleshin     Schmidt/Honda    1m18.7700s  Round 2
13.  Marco Andretti      Andretti/Honda   1m18.2681s  Group 1
14.  Graham Rahal        Rahal/Honda      1m18.1249s  Group 2
15.  Simon Pagenaud      Schmidt/Honda    1m18.2767s  Group 1
16.  Justin Wilson       Coyne/Honda      1m18.2296s  Group 2
17.  Mike Conway         Carpenter/Chevy  1m18.3518s  Group 1
18.  Jack Hawksworth     Herta/Honda      1m18.2310s  Group 2
19.  Juan Pablo Montoya  Penske/Chevy     1m18.8102s  Group 1
20.  Takuma Sato         Foyt/Honda       1m18.4104s  Group 2
21.  Carlos Huertas      Coyne/Honda      1m18.9603s  Group 1
22.  Sebastian Saavedra  KV/Chevy         1m18.5202s  Group 2

All drivers use Dallara chassis