Bottas wants more risky approach from his Williams F1 team
| | |
| --- | --- |
| By Jonathan Noble | Friday, August 22nd 2014, 10:30 GMT |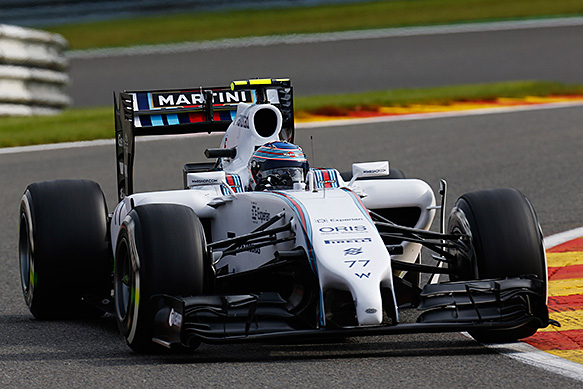 Valtteri Bottas wants his Williams team to be more open to taking risks in its bid to secure a victory in the next two Formula 1 races.
The Grove-based outfit knows that the power circuits of Spa-Francorchamps and Monza offer it its best opportunity of success this year, thanks to its impressive straight-line speed.
But although the team admitted earlier this year that it would err towards safe points for the constructors' championship rather than an aggressive push for victory, Bottas says he hopes recent success will change its stance.
The team has pulled clear of Force India for fourth in the constructors' championship and is now locked in a tight battle with Ferrari for third.
When asked by AUTOSPORT ahead of the Belgian Grand Prix about whether he wanted Williams to gamble more in a bid to grab at least one win this season, Bottas said: "I think as a team we are now much stronger than what we were, let's say, in the beginning of the season. We have learned a lot.
"So maybe we will be able to take a bit more riskier decisions. But I think in general it's up to the team the approach we decide.
"We should not be silly, but I think if there is a chance for a win I think we should definitely go for it. Let's see first how the pace is."
MERCEDES CHALLENGE THE MAIN AIM
Although Williams' strong straightline speed means it should be strong in Belgium and Italy, Bottas thinks it is wrong to consider the team favourite.
"We know that Mercedes is always going to have the upper hand no matter which track we are at," he explained. "If it's Spa or Monza I think they still, in general, have the strongest package.
"But I think in these two races we can be quite close to them, and we can be there if something is going to start happening with the conditions, or if they run into trouble.
"So we need to be as close to them as possible, but we don't want to think that only these two races are good opportunities for big points because we need to look at the whole end of season, and every race we really need to be at our best level and try to bring the maximum points."